With trends suggesting that the Bharatiya Janata Party-Shiv Sena alliance will fall well short of its target of winning 220 assembly seats in Maharashtra, Nationalist Congress Party chief Sharad Pawar on Thursday said the message from the election result is that people did not like "the arrogance of power".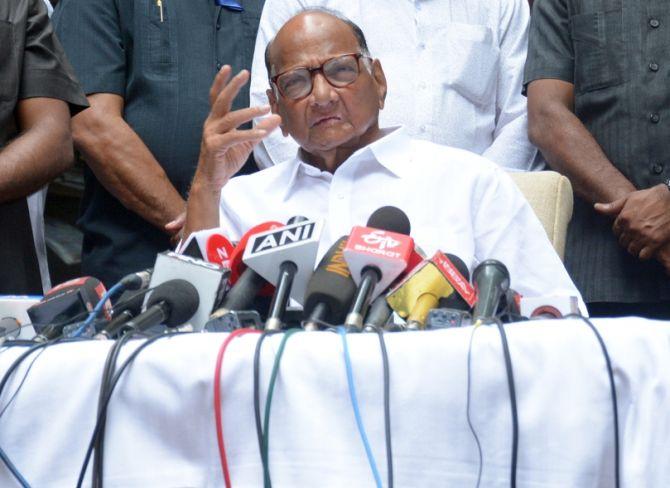 The people, however, have asked the NCP to remain in Opposition, Pawar added, stating that his party will not try to form a government.
"People have not accepted the talk of 220 seats (out of 288). The NCP accepts the people's mandate humbly. The Congress, NCP, Peasants and Workers Party of India, Swabhimani Shetkari Sanghatana and other allies whole-heartedly co-operated with each other. The election result shows people did not like the arrogance of power," Pawar said.
Without naming leaders of the ruling parties, Pawar also observed "some people crossed the limit of holding extreme views".
"People have asked us to sit in the Opposition. The thought of trying to get into power doesn't even cross our minds. We will work to expand our base," he said.
The NCP will not go with the Shiv Sena, Pawar added, and will decide its future course of action along with the Congress and other allies.
"I would like to make clear that no decision has been taken regarding backing the Shiv Sena for the chief minister's post and going with them... We have our own friends in Maharashtra and we will walk with them and support them only... We are firm on our decisions," Pawar told the media.
Pawar also noted that those who deserted the Opposition camp to join the BJP and Shiv Sena were not accepted by the people.
"People did not like their act of expediency ahead of the election," he added.
Newly-elected NCP MLAs will meet after Diwali to discuss the party's future course of action.
© Copyright 2021 PTI. All rights reserved. Republication or redistribution of PTI content, including by framing or similar means, is expressly prohibited without the prior written consent.