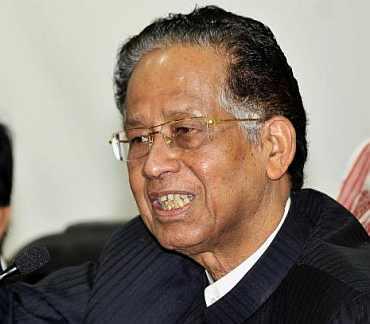 Sources reveal that the Assam chief minister may be on his way out even as it seems that his Haryana and Maharashtra counterparts will survive the crisis. Rediff.com contributor Anita Katyal reports.
At the receiving end from their detractors, chief ministers of Maharashtra and Haryana -- Prithviraj Chavan and Bhupinder Singh Hooda -- are likely to survive the latest crisis. However, their Assam counterpart Tarun Gogoi could find himself on his way out.
Both Chavan and Hooda met Congress president Sonia Gandhi amidst reports that the chief ministers may be replaced with an eye on the upcoming assembly polls in their states.
While Gogoi has already met the Congress president and offered to step down, senior minister from Assam, Himanta Biswa Sarma, who is leading the revolt against the chief minister, is expected to arrive in New Delhi shortly for further parleys.
All the three chief ministers have been in the firing line after the party's drubbing in the recent Lok Sabha polls.
Top Congress sources said these three cases could not be treated on par as each state had its own set of issues.
Of the three states, Congress leaders said it might prove counter-productive to change chief ministers in Haryana and Maharashtra as elections in the two states are only a few months away. It is felt that no purpose would be served by replacing chief ministers so close to polls as it would have little impact on the ground.
On the other hand, Gogoi could be replaced as elections in Assam are still two years away, which would give sufficient time to the new chief minister to recover ground in the state which has been held by the Congress for three terms.
All India Congress Committee general secretary in-charge of Haryana Shakeel Ahmed put an end to the speculation about Hooda being replaced. "Change of leadership either at PCC level or CLP level is not under consideration", he clarified on Saturday.
The possibility of a change of guard in Maharashtra gained ground over the past few days after senior Congress leaders A K Antony and Ahmed Patel met ally Nationalist Congress Party chief Sharad Pawar. The latter is said to be mounting pressure on the Congress for a change of leadership in the state.

He would prefer former Union home minister Sushil Kumar Shinde as he has an excellent rapport with him. Chavan has also been under attack from a section of Congress, led by Narayan Rane, which has been demanding his ouster.
Besides Shinde, other names doing the rounds for the top post are state agriculture minister Radhakrishna Vikhe Patil and state revenue minister Bala Saheb Thorat.
On a whirlwind trip to Delhi on Saturday, Chavan had a series of meetings with senior party leaders. Besides Sonia Gandhi, he also met veteran leader A K Antony, Congress president's political secretary Ahmed Patel and Ghulam Nabi Azad. He called on President Pranab Mukherjee and former Prime Minister Manmohan Singh, described by Chavan as courtesy calls.
Chavan held a special media briefing after these discussions but he refused to divulge details about his meetings. The fact that Chavan chose to meet press persons was taken as an indication that he would survive this latest crisis.
Chavan is also slated to brief the Antony panel about the reasons for the recent poll debacle along with other state leaders on June 28.
Pointing to the continuing state of uncertainty in Maharashtra, Chavan sought greater clarity from the high command on the leadership issue.
On his part, he only said he was not aware of any move to remove him. "I have not been sounded out on this or called to Delhi in this connection. Unless a decision is made, I will continue to do my work," he said.
He also underlined that it is the Congress high command's prerogative to change chief ministers and that he would shoulder any responsibility entrusted to him.
Image: Assam CM Tarun Gogoi