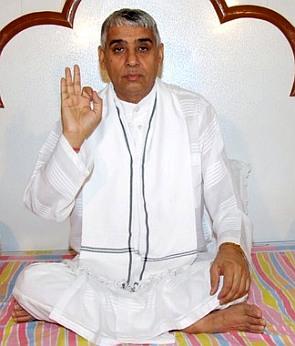 Haryana Chief Minister Manohar Lal Khattar on Saturday appealed to self-styled godman Sant Rampal to present himself before the court in a "peaceful manner", saying one must give utmost priority to uphold the dignity of the judicial system.
The chief minister also appealed to his followers to cooperate in following the directions of the Punjab and Haryana High Court, according to an official release.
"In a democratic set-up, one must give utmost priority to uphold the dignity of judicial system," he said.
The chief minister appealed to the godman to present himself in the court "in a peaceful manner" and "without any hindrance".
Rejecting the state government's plea that Rampal was unwell and his arrest would create law and order problems, Punjab and Haryana High Court had on Monday issued a fresh non-bailable arrest warrant against him in a contempt case and asked why his bail in a 2006 murder case should not be cancelled.
Observing that the state government lacked willingness to arrest the godman and no sincere efforts were made to produce him before it, the court had directed the Haryana Director General of Police and the Home Secretary to ensure that Rampal appears in person before it in Chandigarh on or before November 17.
Meanwhile, the situation around the godman's ashram in Hisar continued to remain tense as the ashram has been turned into a virtual fortress by his disciples to prevent police from arresting him.
The police have cordoned off the ashram to execute the court order to arrest him.
Hisar-Barwala Road has been blocked and prohibitory orders have been imposed around the ashram while senior police officials are camping in the district and keeping a close eye on the volatile situation.
The disciples of the godman have maintained that they would not allow the police to arrest him till he "recovers" completely.
© Copyright 2022 PTI. All rights reserved. Republication or redistribution of PTI content, including by framing or similar means, is expressly prohibited without the prior written consent.