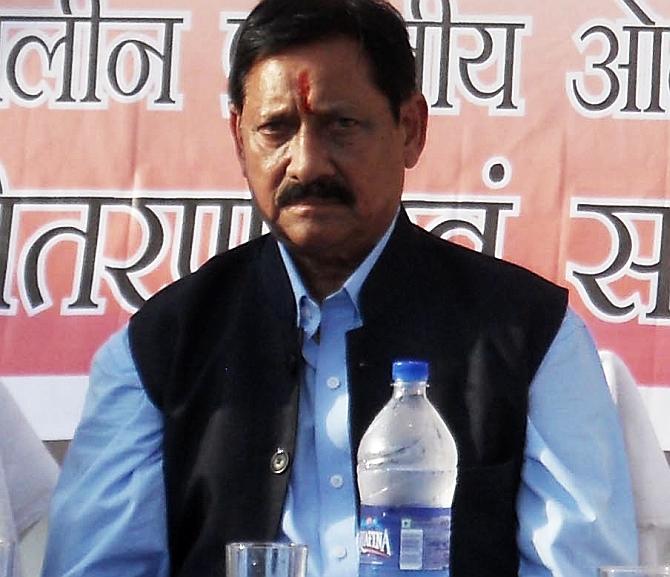 The appointment of cricketer Chetan Chauhan as chairman of premier fashion designing institute National Institute of Fashion Technology drew more condemnation of the Modi government on Sunday from opposition parties which said it was "shocking" and that it raised questions on the prime minister's transparency.
Separately, former India cricket captain Bishen Singh Bedi said the appointment "defies all logic".
Chetan Bhagat also waded into the Chauhan controversy after his name was dragged by the Aam Aadmi Party which while mocking at the cricketer's appointment on Saturday had suggested that the celebrated author appoint him as the next Reserve Bank of India governor.
Bhagat took to Twitter to hit out at the Aam Aadmi Party, saying he knew economies and monetary policies better than anyone in that party and that they should behave rather than indulging in 'mud-slinging'.
Minister of State for Textiles Santosh Gangwar, however, batted for Chauhan, saying there are 11 members on the NIFT board and they are from various walks of life.
"The person who becomes chairman does not take decisions on his own and in a statutory body there are people from every area... there is no harm in this and a person with repute in his field can be appointed," he said.
Rashtriya Janata Dal spokesperson Manoj Jha said it appeared that the Modi government has decided that the less qualified you are, the more qualified you are for any position.
"Now that you have decided so hence, you have Gajendra Chauhan for the Film and Television Institute of India and Pahlaj Nihlani for the Central Board Of Film Certification... we are afraid now such people will be sent to Indian Space Research Organisation and University Grants Commission.
"Chetan Chauhan could be in some cricket body but here in an institute which has a direction and aim...it is not okay," he said.
Jha said such a decision poses questions on the purity (suchita) and transparency of Prime Minister Narendra Modi.
Congress leader Tom Vadakkan said the appointment of Chauhan was like putting a cricket captain in a football team.
"This is shocking. We have seen decisions like this in the CBFC and FTII and they (government) are just not bothered. What is his (Chauhan's) contribution and background with NIFT. These are questions public is going to ask," he said.
Bedi termed the declaration of Chauhan's name as nothing but a "political appointment."
He said Chauhan as NIFT chief "defies all logic" and the announcement was a development he would call of a "very very low ebb".
"It clearly shows the party (BJP) only keeps promoting their own professionals... I can only say god help this," he said.
Janatal Dal-United leader Sharad Yadav said Chauhan had been a BJP MP in the past and people 'paarangat' (deft) in the subject should only be appointed to such institutions.
NIFT alumnus and fashion designer Rina Dhaka, however, chose to make a balanced statement.
She said had there been an another person and not like that of a stark contrasting background like Chauhan, there would have been no eyebrows raised.
"What I understand from the precedence of NIFT is that from its inception there is a ceremonial head who necessarily never has had any connection to fashion.
"From that perspective I don't know how much of a difference did it make in the past as well as what he (Chauhan) would do himself," she said.
Dhaka said the current debate and uproar should be an "opportunity" that people from fashion and related trades like garments and technical streams are brought in to make "serious difference" on the board of NIFT.
As per the NIFT Act 2006, the Chairperson of its Board of Governors shall be an eminent academician, scientist or technologist or professional, who is to be nominated by the visitor, in this case the President of India.
Set up in 1986, the institute, which has centres across the country, comes under the Union ministry of textiles.