The five-day festival of Carnival began on Saturday in Goa and Panaji wore a festive look with decorations and illuminations spread across the main roads.
The Goa Carnival festival was introduced by the Portuguese settlers and was initially celebrated only by Catholics.
However, these boundaries dissolved with time and now people from different communities take equal part in the celebrations.
The state has made all the preparations for the Samba event, which attracts thousands of tourists.
The Directorate of Art and Culture government of Goa has installed colourful cut-outs on all main squares in the city and made elaborate arrangements for the annual merrymaking event.
Decorated floats made their way through the revelers as the main float parade was held in the state capital on Saturday.
This will be followed by float parades in the other cities namely Margao on February 7, Vasco, Ponda and Curchorem on February 8 and Mapusa and Shiroda on February 9.
Rediff.com takes a look at some of the beauteous floats that went about the town in the first procession of the Goa Carnival celebrations.
Eat, pray, love: The message of the festival has always been eat, drink and be merry but enjoy responsibly. That's the word of caution from King Momo. Photograph: Laxmi Negi/ Rediff.com
---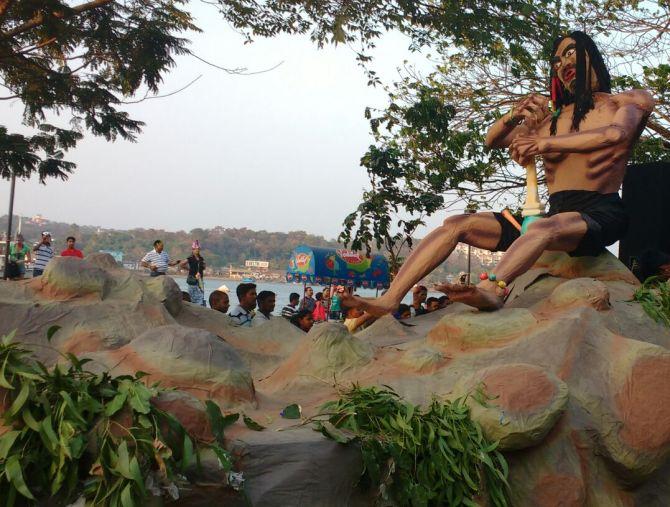 A puppet's life: Life-sized puppets were at the centre of the carnival and this year saw marionettes inspired from carnivals around the world. Photograph: Laxmi Negi/ Rediff.com
---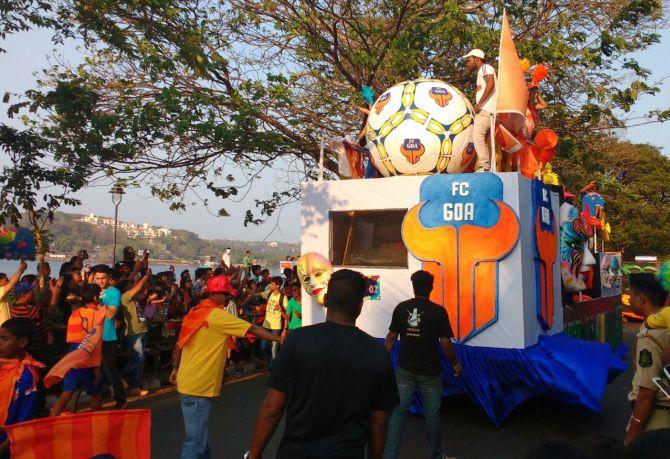 Dhan dhana dhan goal: What is Goa without its football? The Goans very bitter losing out on the Indian super league final to Chenniyan FC last year but they definitely know how to celebrate their football. As a part of the celebrations FC Goa displayed a float for the parade. The float was surround led by football stars like Romeo Fernandes and Mandar Rao Dessai. The float also highlighted FC Goa's efforts to develop football in the state. Photograph: Laxmi Negi/ Rediff.com
---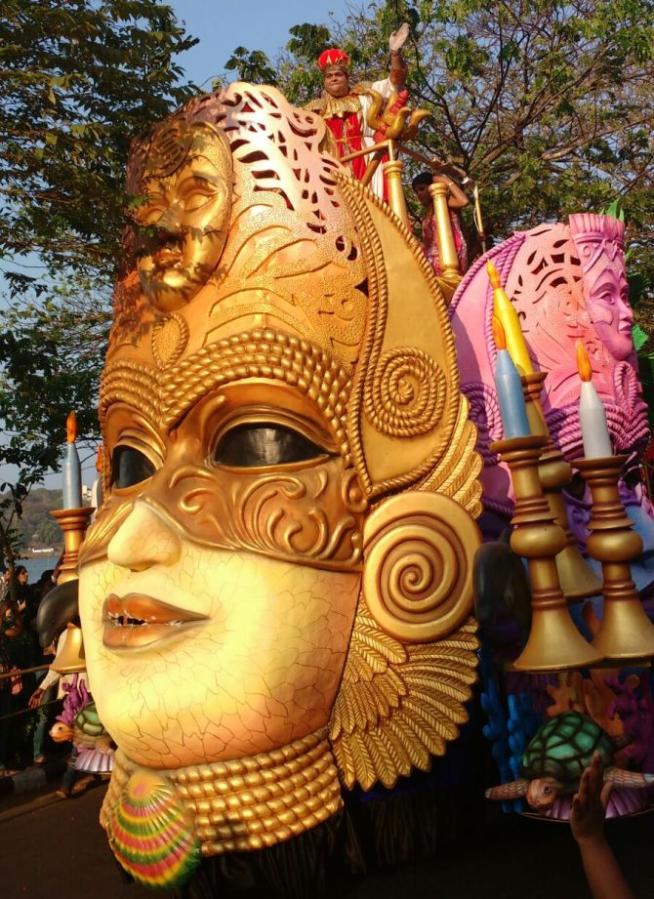 Like father, like son: This year's King Momo is Shalom Sardinha. 42 years ago Shalom's father and former chief minister of Goa Francisco Sardinha reigned as King Momo. Sardinha is an engineer with MBA in finance. He will be present in various floats and will participate in dances. Photograph: Laxmi Negi/ Rediff.com
---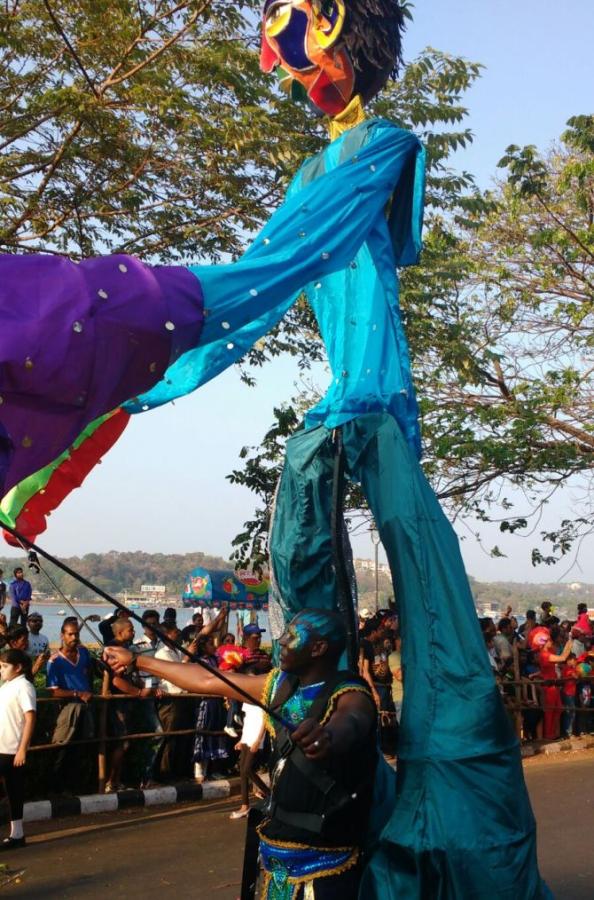 Straight outta Africa: This dancer seems to have been inspired from African aboriginals who danced as if there was no tomorrow. Photograph: Laxmi Negi/ Rediff.com
---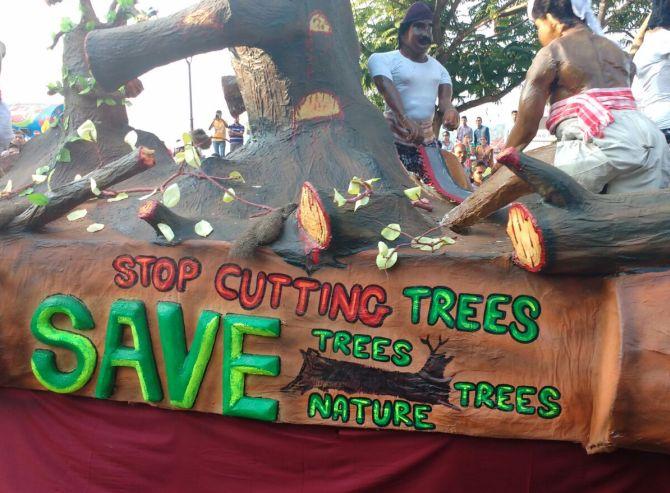 Save the trees and save the bees: This year's procession also saw a float dedicated to the protection of trees. Photograph: Laxmi Negi/ Rediff.com
---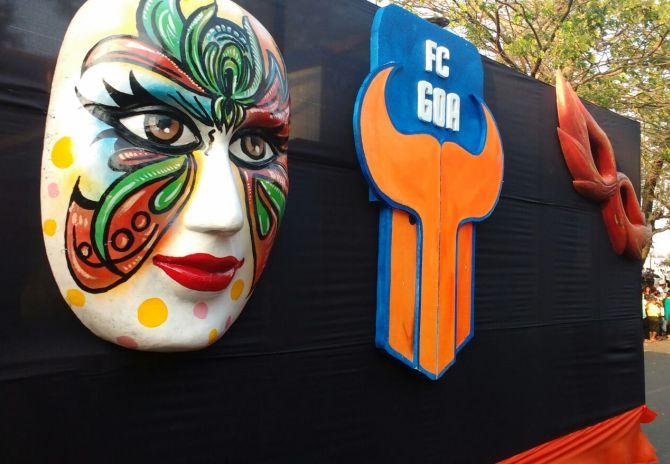 Goal, goal world: Goa and football go hand in hand and this year's celebrations featured FC Goa featured prominently in the processions. Photograph: Laxmi Negi/ Rediff.com
---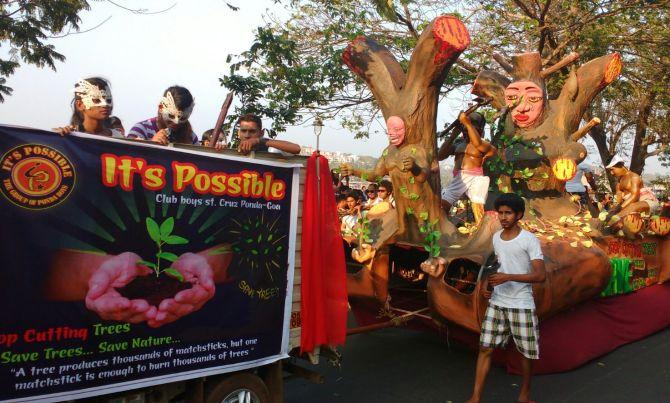 Twining to success: Nature and its preservation featured prominently in this year's floats as witnessed by this artistic float. Photograph: Laxmi Negi/ Rediff.com
---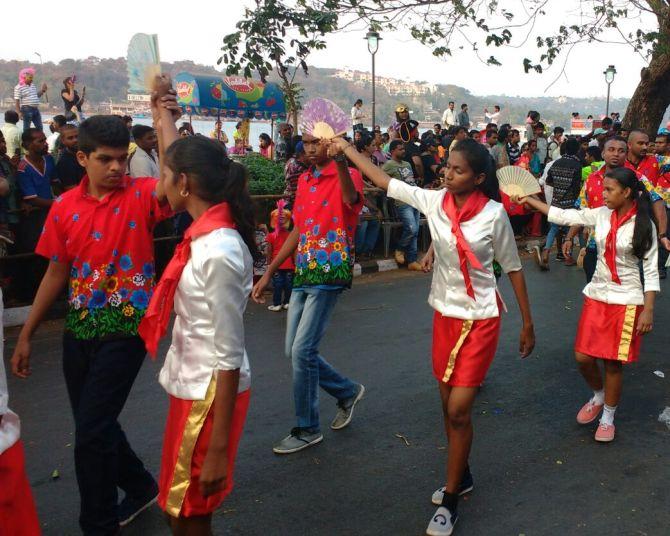 Walking together: Walking together with their palms wrapped together these young kids were a sight to see. Photograph: Laxmi Negi/ Rediff.com
---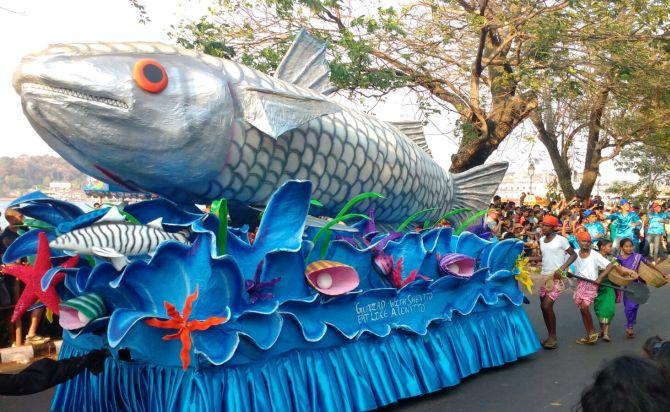 Fish out of water: Seafood and its preservation also featured in the many floats that went up this year. Interesting innit. Photograph: Laxmi Negi/ Rediff.com
---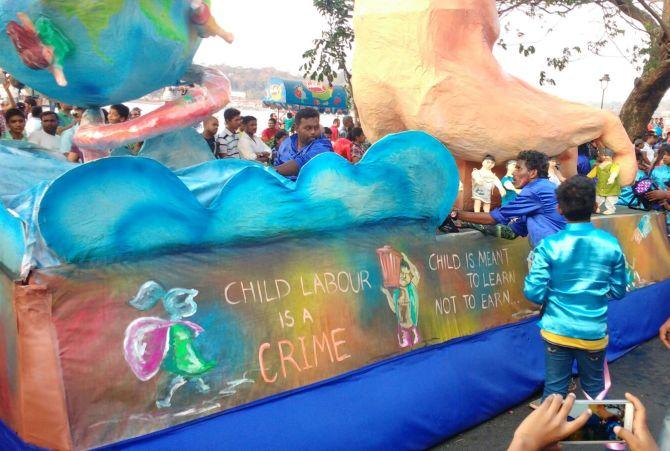 Oliver Twist: This year's float also focused on other societal issues like child labour. This float in particular seemed to get a great response. Photograph: Laxmi Negi/ Rediff.com
---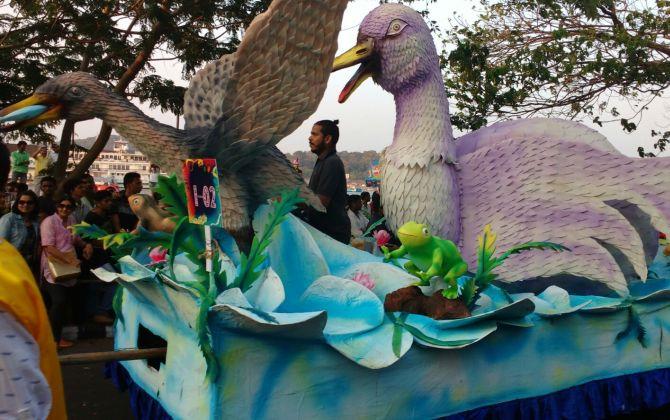 Ugly duckling: This pair of duckies was a pretty sight for the revelers. Photograph: Laxmi Negi/ Rediff.com