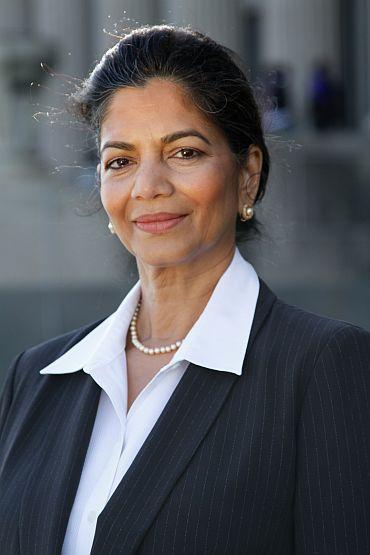 In yet another manifestation of an Indian American creating history in recent months, Goa-born, Mumbai-raised Bernadette D'Souza has been elected a judge in the US state of Louisiana and will head up the first family court in the history of the city of New Orleans.

D'Souza, a Democrat, creates history on many fronts, including not only as the first Indian American woman to be elected a judge in this Cajun state, but also as the first Indian American grandmother -- at age 57 -- to be elected to such an influential position, which she has coveted and fought for over a decade and a half in order to give vent to her passion to serve the indigent and less fortunate, particularly victims of domestic abuse and violence. 

Last month, at a special election called for by the state's first Indian American Governor, Piyush 'Bobby' Jindal, for New Orleans' first family court judgeship, D'Souza emerged victorious when her only remaining opponent, Kris Kiefer, threw in the towel in the wake of massive support for D'Souza from the political and legal establishments -- with more than 400 endorsements that included more than two dozen legislators and scores of attorneys and community leaders -- rendering her unopposed.

"It's the fulfillment of a lifelong dream," D'Souza said of her election, and predicted that "it's the beginning of a new era in dealing with difficult domestic cases that can be so troubling for families -- for the parents and for their children."

D'Souza, who immigrated to the US in 1978 with her physician husband Dr Terence D'Souza, now a neurologist at Ochsner Clinic, and became a citizen in 1988 and an attorney since 1993 after graduating from Tulane University's Law School, has been a passionate advocate for a permanent family law section at CDC.

D'Souza, reminiscing about her growing up in Mumbai, told rediff.com about how her late father Anthony 'Tony' Gomes came to Mumbai to pursue a music career in the film industry and  worked with many a great music directors like Ravi, Hemant Kumar, Shanker Jaikishan, Laxmikant Pyarelal, SD Burman and RD Burman -- a few of the names that she can remember.
She said, "Growing up as a child, he would sometimes take me to the recording studios and all of my early childhood education was in Mumbai and I completed my high school education in a convent boarding school in Goa."

"Subsequently, I came back to Mumbai and graduated from the University of Bombay with a Bachelor of Arts degree in psychology."

D'Souza said, "I came to the United States in 1978, having married my husband, Dr Terence D'Souza, who came to the US to do a medical residency in neurology."

"We have three children, Lloyd, Vanessa, who is married to Michael DePetrillo and Christine and are grandparents of Aidan Michael DePetrillo."

Lloyd D'Souza is a writer, director and producer in Los Angeles while Vanessa is a patent attorney in New Orleans and Christine is vice president of content sales and project finance for Preferred Content in Los Angeles.

One of her closest friends and staunchest supporters, Rajan Pandit, a partner in the New Orleans-based firm of Huber, Slack, Houghtaling, Pandit & Thomas, LLP, which has offices also in Mobile, Alabama, told rediff.com that "Bernadette is one of the most respected attorneys in New Orleans who has devoted her entire career to family law matters."

He spoke of how "she worked tirelessly to pass legislation making the family law judgeship a permanent position in New Orleans, and I am confident that she will do a tremendous job as an elected official."