The noted publisher of Hindu religious and spiritual texts, which has seen tough times in the recent past, hopes the new UP CM's spiritual background will boost sales.
Virendra Singh Rawat/Business Standard reports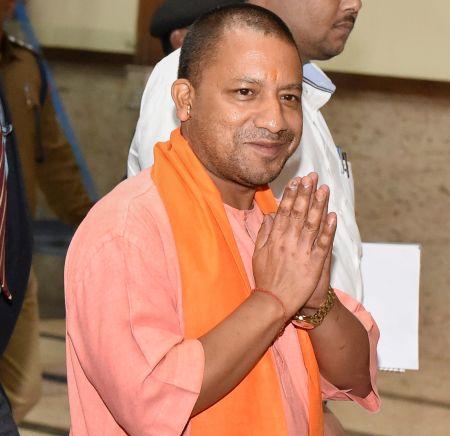 Gorakhpur residents are celebrating that their Member of Parliament, Yogi Adityanath, has been made chief minister. An entity in the area is also hoping to ride the wave, to turn the page.
The base of Uttar Pradesh's new chief minister is also home to Gita Press, a well-known publisher of Hindu religious, cultural and spiritual texts. With a legacy of 95 years, it has clocked an estimated sale of 580 million books, including the Shrimad Bhagwad Gita and the Ramcharitmanas.
Gita Press Trust Board chief Radhey Shyam Khemka expressed confidence that Adityanath's spiritual background, his Gorakhpur connection and ascetic lifestyle would help inculcate moral and cultural values among youth, translating into more demand for such texts. "It is lamentable that the current generation lacks insight about our ancient culture and religion. They have not been provided with such an environment or been informed as part of their curriculum," he said.
Khemka said the appointment of Adityanath as chief minister was expected to generate more interest in traditional culture. This would increase their thirst for information about relevant topics, and could boost sales.
In 2015, Gita Press had a workers' strike over issues of pay, workers' suspension and termination. The trouble had erupted when the management had suspended 12 staffers and terminated the services of some contractual employees in August 2015, after charging them with indiscipline and assault on an official. The workers had proceeded on strike, demanding revocation of suspension and termination. Talks between the management and the striking workers had failed to resolve the deadlock. Adityanath had then intervened to resolve the issue.
There are no labour issues trumping now and the 450-odd employees, including 200 permanent staffers, are all working in harmony, Khemka said. He is also editor of Kalyan, a spiritual magazine published by Gita Press.
Gita Press does its printing in Gorakhpur but the editorial team of 15-20 is based in Varanasi. It is a unit of Gobind Bhawan Karyalaya, registered under the Societies Registration Act, 1860 (governed by the West Bengal Societies Act, 1960). The entity started with publications in Hindi and Sanskrit and now publishes books in English, Urdu, Telugu, Odia, Bangla, Tamil, Marathi and Punjabi, among others.
Khemka was a nominated member of a committee constituted by former Prime Minister Atal Bihari Vajpayee for propagation and popularisation of Hindi and non-English languages.
Image: UP CM Yogi Adityanath. Photograph: Nand Kumar/PTI Photo