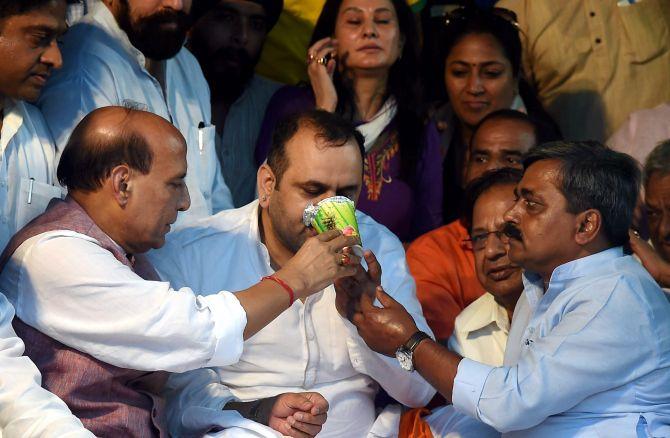 IMAGE: BJP MP Mahesh Girri breaks his fast in the presence of Union Home Minister Rajnath Singh and other BJP leaders in New Delhi on Tuesday. Photograph: Shirish Shete/PTI Photo

Three days into his protest against Delhi Chief Minister Arvind Kejriwal, Bharatiya Janata Party member of Parliament Maheish Girri on Tuesday ended his fast-unto-death after Union Home Minister Rajnath Singh showed up at the site and made an appeal to him.
A few metres away from Kejriwal's official residence, Girri sipped a glass of water and once again dared the chief minister to an open debate into the death of New Delhi Municipal Council estate officer Mohammed Moin Khan at a place of his choice 'in the next 24 hours'.
The East Delhi MP was on protest demanding proof from Kejriwal about his allegations that he was involved in Khan's murder and demanded an apology in case the chief minister was unable to do so.
"He had given a challenge for debate. Accepting challenge depends on one's courage, capacity and conscience. But a life cannot be endangered over a challenge," Singh said.
The Union home minister is understood to have assured Girri of an impartial probe into the case.
Kejriwal has been demanding Girri's arrest alleging that he was involved in the May 16 murder of Khan, a day before he was scheduled to pass the final order on the lease terms of 'Connaught Hotel' located on a property leased out by the NDMC.
The Aam Aadmi Party attacked the Union home minister for visiting Girri at the protest site.
'This will be the first time that an HM (home minister) instead of ordering the questioning of a murder suspect will be felicitating him,' AAP's Ashish Khetan tweeted ahead of Singh's visit to the protest site.
AAP's Rajouri Garden MLA Jarnail Singh said, "It's a shame home minister of India is standing with culprits and not with martyred MM Khan's family. He couldn't get time to visit Khan's residence. (The) home minister is affecting the probe by giving wrong signals."
Without taking any name, Kejriwal had previously alleged that a person was being shielded from being probed into the case as he was 'friends' with the Union home minister.
'I end my fast at behest of @HMOIndia Shri @rajnathsingh Ji. Thanks to all karyakartas, volunteers, ppl, media for love, affection, blessings (sic),' Girri tweeted.
Union minister Harsh Vardhan, BJP general secretary Kailash Vijayvargiya, Rajya Sabha MPs Vijay Goel and Subramanian Swamy and Delhi MPs Ramesh Bidhuri and Prawesh Verma were among the senior party leaders who had joined Girri briefly at the protest.
'It's difficult to emulate Anna/Kejriwal. It requires courage of conviction not shrillness of soul. Maheshji Delhi knows wht is theatrics? (sic)' AAP spokesperson Ashutosh tweeted, reacting to the news of Girri calling off his fast.
The owner of The Connaught, a four-star hotel, Ramesh Kakkar, and six others have been arrested in connection with the murder of Khan.
Main accused Kakkar is learnt to have sent two of his associates for a meeting which NDMC vice chairman Karan Singh Tanwar, who later wrote a letter to Lt Governor Najeeb Jung seeking his removal, 11 days before he was to give his final order on the hotel's lease.
The AAP has alleged that Tanwar had threatened the 57-year-old estate officer with dire consequences, a few days before his murder and demanded the Delhi Police arrest him and probe his 'complicit'.