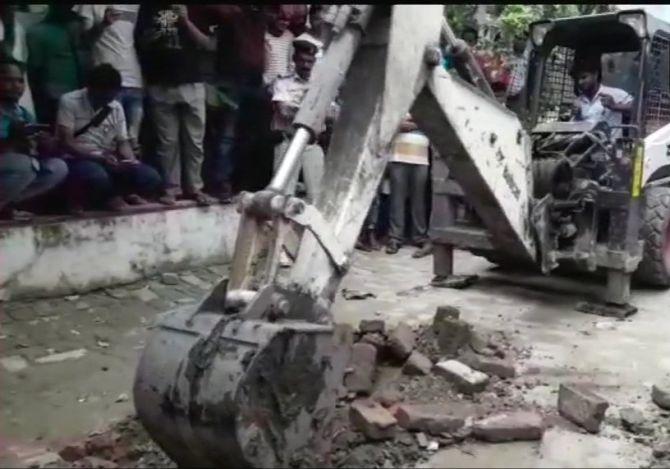 A girl of a government-funded shelter home in Bihar's Muzaffarpur has alleged that one of her fellow inmates was beaten to death and buried at the premises of the facility, and several were raped.
Sexual exploitation of girls lodged at the shelter home in Bihar had come to light in a social audit by a Mumbai-based institute, following which the state social welfare department lodged a first information report in this connection last month and 10 people were arrested.
Following the shelter home inmate's claim that a girl was killed, the Bihar Police dug up the grounds of the facility, but are yet to find the body.
The opposition Rashtriya Janata Dal raised the issue in both the Legislative assembly and the Council demanding a Central Bureau of Investigation inquiry into the allegations and claimed that the scandal involved many "well connected people" whom the Nitish Kumar government was trying to shield.
Muzaffarpur Senior Superintendent of Police Harpreet Kaur told reporters, "We are carrying out the excavation based on the statement given by one of the girls. The spot has been identified by her."
"Nothing has so far been found from the site during the excavation. However, the area of excavation might be enlarged after further examination of the girl who had alleged in her testimony that one of the inmates had been beaten to death," the officer said.
More than 40 girls had been lodged at the shelter home and medical reports suggest that over half of them may have had sexual intercourse at some point of time, she said, adding,
"Altogether 10 people, including the district child protection officer, women staff members of the shelter home have been arrested so far."
The NGO running the shelter home has been blacklisted, she said adding, all the girls have been shifted to shelter homes in other districts while the premises here have been sealed.
The incident drew sharp criticism from political parties in the state with the opposition RJD demanding a CBI inquiry into the allegations of sexual exploitation of girls at the shelter home.
Leader of the Opposition in the Assembly Tejashwi Yadav alleged that the scandal involved many 'well connected people' whom the Nitish Kumar government was trying to shield.
Opposition leader in the Legislative Council Rabri Devi too raised the issue in the Upper House.
Speaking to reporters outside the House, both Tejashwi Yadav and Rabri Devi alleged, "Many safedposh (white-collared) people are involved in the Muzaffarpur scandal and they enjoy proximity to the ruling dispensation. A CBI inquiry should be ordered so that the accused are not able to influence the investigation."
Yadav said the Muzaffarpur incident will be highlighted by his party as one of the many failures of the Nitish Kumar government, during the state-wide 'cycle yatra' scheduled to commence later this week.
"This regime has failed on all fronts -- be it law and order or relief to drought-affected farmers," he said.