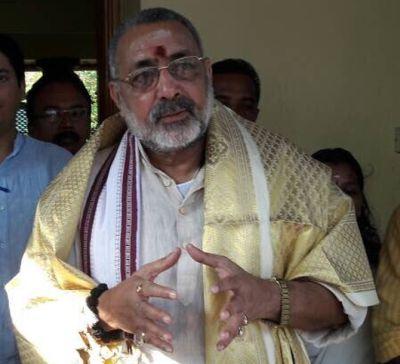 A day after Bharatiya Janata Party national spokesperson Sambit Patra compared the opposition to Pakistan-base terrorists Hafiz Saeed, Union Minister and BJP leader Giriraj Singh on Monday equated the anti-BJP parties to global terrorist Osama Bin Laden.
Taking to Twitter, Giriraj Singh said Opposition parties that supported Maoists, caste politics, feudalism and Osama have ganged up against the National Democratic Alliance.
"Maowaadi, jaatiwadi, samantwaadi aur Osamawadi, sabhi rashtrawadi gathbandhan NDA ke khilaf ekjut ho gaye hain," Giriraj tweeted.
He added the unity of the opposition would not have an impact on the Narendra Modi government which was riding on the development plank and would cross the 2019 Lok Sabha hurdle.
Earlier, Patra compared the Opposition to 26/11 Mumbai terror attack mastermind Hafiz Saeed, saying that like the Pakistan-based terrorist, the 'mahagathbandhan' too is trying to stop Narendra Modi from becoming the PM in 2019.
"It's not just the not yet formed "Mahagathbandhan" that desperately wants to stop India from having Modi as its PM in 2019…there are others as well…desperately trying for d same! Hafiz Saeed openly saying that he will shed blood of Narendra Modi," he said in his tweet as he posted a video of Saeed.
The BJP spokesperson later tweeted and said that he is not trying to compare the two, the anti-BJP alliance and Hafiz Saeed.
"Of course this is not a comparison! Modi Ji's attack on Black Money and corruption is getting the opposition in India on one page while His attack on terrorism & Surgical Strike is pushing Hafeez Sayed to desperation! This proves that the Modi government is moving the right way! (sic)"