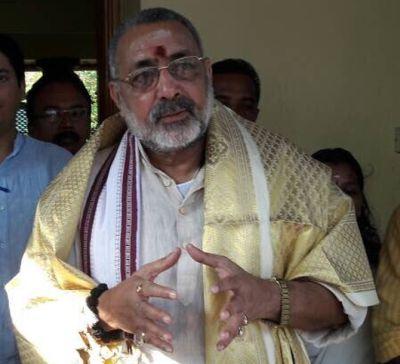 Nitish Kumar, he alleges, ignores his partner's misdeeds.
M I Khan reports from Patna.
Union Minister Giriraj Singh, who often sparks controversy with his provocative statements, has called Rashtriya Janata Dal chief Lalu Yadav a 'blackmailer'.
Bihar Chief Minister Nitish Kumar, he says, ignores his partner's misdeeds like 'Dhritarashtra,' the blind king in the Mahabharat.
Giriraj Singh's remarks on Thursday came a day after RJD workers allegedly attacked Bharatiya Janata Party workers outside the BJP office in Patna followed by a violent clash between workers of both parties in which over a dozen people were injured.
'Lalu blackmailer aur Nitish Dhirtarashtra,' Giriraj Singh said in a tweet.
RJD workers, the minister alleged, attacked the BJP office a day after the income tax department conducted raids at 22 locations in New Delhi and adjoining areas in connection with the alleged benami land deals linked to Lalu and his family.
'Action against Lalu was as per the rule of the law. BJP workers were attacked after BJP raised corruption issue against Lalu,' Giriraj Singh said in another tweet.
More than Lalu, the minister says he holds Nitish Kumar responsible for the attack on the BJP office because he is the chief minister and maintaining law and order is his duty.
'Nitish Kumar is afraid to take action against Lalu and his two sons despite solid evidences of benami property,' Singh said in a third tweet.
Giriraj Singh has constantly courted controversy by his statements.
During the 2014 Lok Sabha election, he wanted all 'those who want to oppose Narendra Modi' to 'go to Pakistan.'