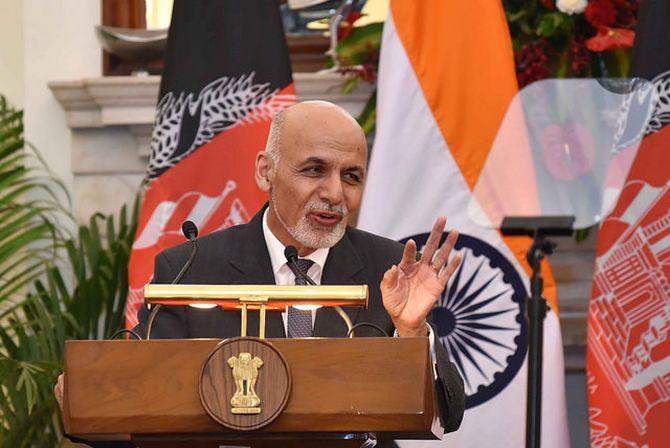 Asserting that terrorism was a threat to all its neighbours, Afghan President Ashraf Ghani on Wednesday pitched for a coherent regional strategy to deal with the menace but indicated that his government may engage with Taliban under the constitutional framework.
The visiting leader also thanked India for its assistance in rebuilding his country and said Afghanistan which was fighting a war imposed on it was looking at Indian investors for its prosperity.
India has so far contributed nearly USD 2.2 billion for various projects there, he said.
India was part of four out of five diplomatic priority circles which include being a neighbour, having the second largest Muslim population and as one of the top investors, Ghani, on his first visit to New Delhi after assuming office in September last, told reporters.
Describing the Islamic terrorist outfit ISIS as a "man-eater like Bengal tiger", he said the fundamental shift last year has been changing global terror networks and their realignments.
"Every single one of our neighbours is threatened by these networks and ISIS at large," he told reporters at a press conference at Rashtrapati Bhavan.
He cited the example of threats by The East Turkestan Islamic Movement to China and the Islamic Movement of Uzbekistan to Uzbek people.
Asserting that the ISIS was a new phenomenon and terrorism does not travel on passport or is a respecter of boundaries, Ghani said, "We must deal with it as a region".
Asked about attacks in Afghanistan's Kunduz city ahead of his visit and status of talks with Taliban, the visiting leader did not give a direct answer but indicated that there may be role for it in Afghan policy under country's constitutional framework.
"What is the difference between Taliban and other networks of terror? The latter have no place in our future policy if they are produced by conditions in their countries or by ideas of destabilisation. So we must deal with them," he said, implying that his government was not averse to holding talks with Taliban under Afghan Constitution framework
"It is imperative that the States must acquire the coherent of outlook, coordination and deal with this," Ghani said.
Therefore, the alternative is that Afghanistan must become a platform for global and regional cooperation for active diplomacy, the Afghan leader said.
Ghani, who is staying at Rashtrapati Bhavan, is the first foreign dignitary to address a presser in the historic building.
The visiting leader said his country was fighting a war and last thing "I wanted to become is a war president. But the responsibility of the Afghan President is to become the commander of chief.... I intend to fulfil with honour and full determination."
His interaction came a day after he held talks with Prime Minister Narendra Modi during which India offered assistance to war-ravaged Afghanistan in diverse sectors including defence.
Ghani, who has visited China and Pakistan before coming here and has pro-Islamabad approach, appreciated India's contribution in reconstruction efforts in his country as also massive human resource development projects for Afghan youth.
Image: President of the Islamic Republic of Afghanistan, H E Dr Mohammad Ashraf Ghani in New Delhi. Photograph: MEA/Flickr