Abraham succeeds Dr Surinder Malhotra who served as president of the Indian National Overseas Congress for the last 12 years. George Joseph reports from New York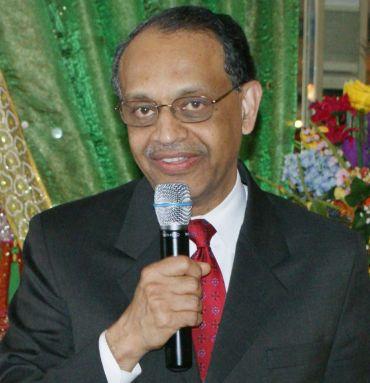 The faction-ridden Indian National Overseas Congress has been reconstituted with current Secretary General George Abraham as the new president.
The appointment was made by Dr Karan Singh, chairman of the Foreign Affairs Committee of All India Congress Committee.
Shudh Jasuja, the current vice-president has been promoted as senior vice-president. Chakot Radhakrishnan and Dr Nagender Rao Mandavaram were also appointed as vice-presidents. 
Kanwal Sra will be the new treasurer. The other executive committee members include Dr Najma Sultana, Kalathil Varghese, Pam Kwatra, Mohinder Singh Gilzian, Karamjit Singh Dhariwal and Phuman Singh.
Abraham succeeds Dr Surinder Malhotra, who served as president for the last 12 years. Malhotra will serve as chairman-emeritus. Though he will not be involved in the administration of the INOC, he should always be invited to major functions and given due regard, Singh in his letter said. He is also authorised to deal with any litigation/legal matters that may have arisen during his tenure as president.
"I am truly humbled by this appointment and consider it an honor," Abraham said. "I am looking forward to working with the diaspora in strengthening the organisation and accomplishing the stated goals," he added.
The appointment is for one year starting March 31. As per the Congress tradition of one person one post, the executive committee members cannot take up other posts like chapter president.
Singh asked the new committee to meet soon and survey the entire situation and come up with a positive plan of action to strengthen the organisation in the US. He also lamented that much energy and time had been wasted up on internecine conflicts and it should be avoided in the future.
Abraham started his association with the Congress during his school days with the student's union back in Kerala. He arrived in the United States in 1968 and earned his BS, and MS degrees from New York Institute of Technology.
He worked at the United Nations headquarters in New York for 36 years and left it recently as chief technology officer for UN Pension Fund's IT global Operations.
Abraham is the founding general secretary of INOC. He is also a founding member of the Non-Resident Indians for Secular and served as general secretary of Kerala Samajam of Greater New York and was director of Federation of Indian Associations.
Photograph: Indian National Overseas Congress president George Abraham