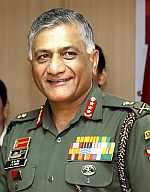 Former army chief Gen V K Singh's house in New Delhi was a scene of high drama on Saturday when an army officer landed there apparently to remove a telephone exchange and it was seen by the family as an attempt to install a snooping device, after which the army apologised.
A major of the Signals Regiment was "detained" by the family members who called the media to the scene in Mandir Marg in Delhi Cantonment around 2 pm.
The family linked it to the withdrawal of the Z-plus security to Gen Singh, who has been at loggerheads with the establishment for over a year following the controversy relating to his age issue.
Gen Singh's family members claimed that Major R Vikram from 1st Signals Regiment entered their house without prior permission and may have been trying to bug their telephones.
"We found him (major) at the house. They (team) could not give any reasonable logic for being here. They had no valid documents. They may have come to bug the phone. We detained, apprehended him. He revealed his identity as Maj R Vikram from 1st Signals Regiment," said Gen Singh's lawyer Vishwajeet Singh.
Claiming that the major and his team had "some cards with them", he said "recently they have withdrawn security and now this has happened. There could be something big."
The army headquarters said the exchange was being removed from the former army chief's residence as part of the withdrawal of Z-plus security category with effect from November last year.
Delhi Area Commander Lt Gen Subroto Mitra went to the site and it was "sorted out amicably", they said. Mitra told the media later that "there has been a miscommunication for which I have apologised personally to Mrs Bharti Singh (wife of V K Singh).
The army, however, dismissed the allegations of snooping attempt, saying its team had gone there to remove the army telephone exchange installed there and the issue was created due to communication gap.
"Due to a miscommunication gap somewhere, a Signals Regiment party went to remove the army exchange and lines at the Mandir Marg house of Gen V K Singh. His wife objected to the removal of the exchange without prior notice," the army said in a statement.
"The lack of advance information caused slight resentment. The matter was amicably resolved by intervention of GOC Delhi Area. The army respects all its retired chiefs and senior officers and will continue to do so," it said.
In deference to her objection, the team returned without removing the exchange.