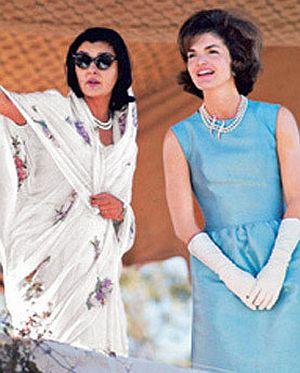 Maharani Gayatri Devi was one of the few royals whose liberal outlook took her well beyond the traditionally-limited activities of a Queen mother and won unprecedented success in the political arena, which was the envy of even former US President John F Kennedy.
Celebrated for her classical beauty and who became something of a fashion icon in her adulthood, Gayatri Devi styled as the Rajmata was known for her strong character and was a particularly avid equestrienne. She was the third Maharani of Jaipur from 1939 to 1970.
It was a tragic irony that the 90-year-old royal passed away just a day after actress and beauty Leela Naidu died in Mumbai after a prolonged illness. The prestigious fashion magazine Vogue had named Gayatri Devi as one of the 10 most beautiful women in the world along with Leela.
After Gayatri won the Jaipur seat in the Lok Sabha in 1962, Kennedy introduced her during an event as 'the woman with most staggering majority that anyone has ever earned in an election'.  She tasted victory in the world's largest landslide poll win bagging 192,909 votes of 246,516 cast and the achievement was endorsed by the Guinness Book of Records.
Gayatri Devi contested as the candidate of Swatantra party of C Rajagopalachari, the last and only Indian Governor-General of India.
She continued to hold this seat on 1967 and 1971 running against the Congress Party. This enraged the then prime minister Indira Gandhi, who retaliated in 1971 by abolishing the privy purses, and stopping all royal privileges, breaking the treaties agreed upon in 1947.

Gayatri Devi was accused of breaking tax laws, and served 5 months in Tihar Jail in Delhi during the Emergency. She retired from politics after that experience.
Born on May 23, 1919 as Princess Gayatri Devi of Cooch Behar), she was the third Maharani of Jaipur from 1939 to 1970 through marriage to Maharaja Sawai Man Singh II. To her friends and family she was more commonly known as Ayesha.

Her father, Prince Jitendra Narayan of Cooch Behar, was the younger brother of the Yuvraj (Crown Prince). Her mother was Princess Indira Raje of Baroda, an extremely beautiful princess and a legendary socialite.
Early in her life, her uncle's death led to her father ascending the throne. Gayatri Devi studied at Shantiniketan and later in Lausanne, Switzerland, where she travelled with her mother and siblings, then studied secretarial skills in London School of Secretaries; Brilliantmont and Monkey Club London.
She was raised in a sumptuous palace staffed with five hundred servants. She shot her first panther when she was 12.
Gayatri Devi lived a tomboy childhood with her brothers and sisters in the palace of Cooch-Behar, and has had adventurous trips with their elegant mother, the Maharani Indira Devi, to London and the European Continent.
When she married to the Maharaja she entered the glittering life of the City Palace of the pink city, and had to adjust to the unfamiliar customs and to life with wives of other royals.
The Jaipur Royal Family lived a lavish life: hunting in their forests, spending summers in Europe, educating the royal children at elite schools in England, entertaining streams of famous visitors at their desert palaces, and generally living the typically flamboyant life which was normal for Indian royals.
Gayatri Devi had one child, Prince Jagat Singh of Jaipur. She started schools for girls' education in Jaipur, most prominent of which is the Maharani Gayatri Devi Girls' Public School. She also promoted the dying art of blue pottery.
There were rumours that she might re-enter politics as late as 1999, when the Cooch Behar Trinamool Congress nominated the 80-year-old Gayatri as their candidate for the Lok Sabha elections, but she did not respond to the offer.
In 2006, India's first 3D documentary movie Rajmata Gayatri Devi's Legacy, based on her life, was made by the students of Arena Multimedia in Jaipur. Rajmata, who has faced tragedies as great as her former triumphs, herself inaugurated the movie through the medium of a digital art exhibition on November 16 2006.

Image: A file photo shows Rajmata Gayatri Devi with then US First Lady Jacqueline Kennedy
© Copyright 2021 PTI. All rights reserved. Republication or redistribution of PTI content, including by framing or similar means, is expressly prohibited without the prior written consent.