BJP MPs seek imposition of President's Rule in Bihar.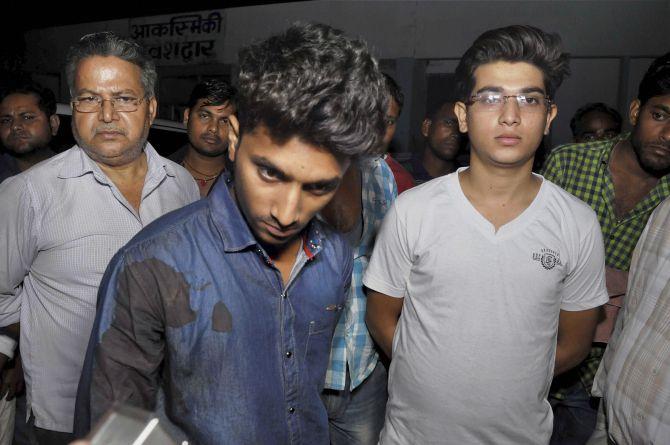 IMAGE: Youth who were beaten up allegedly by JD-U MLC Manorama Yadav's son for overtaking his car in Bihar's Gaya district. Photograph: PTI Photo
A court in Bihar's Gaya district on Monday remanded Bindeshwari Prasad Yadav alias Bindi Yadav and his wife Janata Dal-United member of legislative council Manorama Devi's bodyguard Rajesh Kumar to 14-day judicial custody in connection with the murder case of 20 year-old Aditya Sachdeva.
Additional Chief Judicial Magistrate-VI Sanjay Kumar Jha remanded them to judicial custody after the duo were produced in the court, a day after they were arrested in connection with the murder case in which the prime accused Rakesh Ranjan Yadav alias Rocky Yadav, the MLC's son, is absconding.
The two were being taken to Gaya central jail for interrogation, Magadh Zone Deputy Inspector General Saurabh Kumar said.
In a related development, four friends of the murdered youth travelling with him in car on Saturday night recorded their statements under Section 164 of Code of Criminal Procedure (recording of confessions and statements).
Mohammed Nasir, Mohammed Kaifi, Ankit Kumar and Ayush Agrawal -- all friends of Aditya -- recorded their statements before the first-class judicial magistrate Rakesh Ranjan Singh, narrating the sequence of events leading to their friend's murder by Rocky.
Aditya was shot dead, allegedly by Rocky, son of JD-U MLC Manorama Devi, following a scuffle over the youngster and his friends overtaking their Range Rover SUV.
Meanwhile, the Bharatiya Janata Party on Monday called for a shutdown in the town of Gaya over the killing.
In the Lok Sabha,
BJP members sought imposition of President's Rule in Bihar alleging 'jungle raj' there and indulged in heated exchanges with their Rashtriya Janata Dal and JD-U counterparts who strongly opposed their demand.
Raking up the issue of deteriorating law and order in the state in the Zero Hour, BJP MP Janaradhan Singh Sigriwal alleged that several ruling alliance legislators or their kin were recently found to have been involved in criminal activities.
Sigriwal referred to incidents of rape and molestations involving RJD and JD-U legislators and demanded that a central team should visit the state to 'see for itself'. He further sought imposition of President's Rule in the state.
Ashwini Kumar Choubey, also a BJP MP from Bihar, narrated a number of incidents to drive home the point that Bihar is witnessing 'jungle-raj' and law and order was deteriorating in the state.
The statements led to a war of words between them and Jay Prakash Narayan Yadav (RJD) and Kaushalendra Kumar (JD-U) who protested their demand for central rule.
Taking a jibe at Chief Minister Nitish Kumar and RJD chief Lalu Prasad, expelled RJD MP Rajesh Ranjan, alias Pappu Yadav, said while one dreams to become the next prime minister, the other is dreaming to become the chief minister.