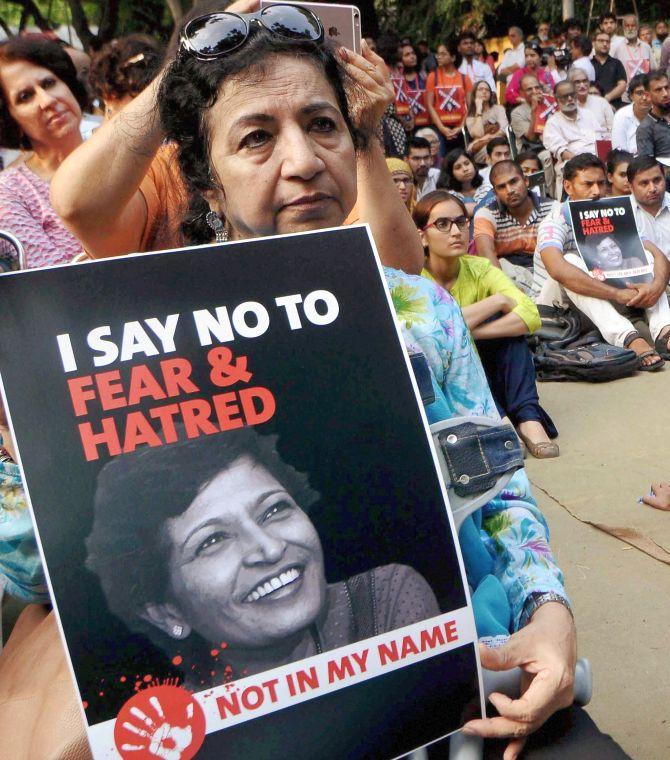 Karnataka Bharatiya Janata Party MLA DN Jeevaraj on has courted a controversy by suggesting that she was killed for her statements against the right wing.
Speaking at a rally in Koppa taluk in Chikmagalur on Wednesday, Jeevaraj made the statements while trying to argue that the BJP provided better safety and security than the Congress.
In the video accessed by India Today, Jeevaraj is heard saying, "When BJP workers were murdered, if this same Gauri Lankesh had condemned Siddaramaiah, would her murder have happened?"
"She may have written some things against us in her paper. That is democracy, that is a different matter. But who will pay the cost of her life?" he asked.
Going further, he also hit out at the language that Gauri had used in her writing, titling her article Chaddigala Maaranahoma (Death of the RSS).
"If she had refrained from writing articles like that she would have probably been alive today," he said.
Jeevaraj's statement has come at a time when the police are still unsure of the motives behind Gauri's murder.
Lankesh, 55, known for her anti-establishment voice with acrid anti-right wing views, was shot dead from a close range by unknown assailants at her residence in Bengaluru on Tuesday.
IMAGE: Demonstrators hold placards with the picture of Gauri Lankesh during a 'Not In My Name' protest at Jantar Mantar in New Delhi on Thursday. Photograph: PTI Photo