The Ganga has crossed the danger mark in West Bengal, Bihar and neighbouring districts of Uttar Pradesh where Yamuna river is also in spate, while heavy rainfall has created a flood-like situation in some parts of Rajasthan where six persons have died so far.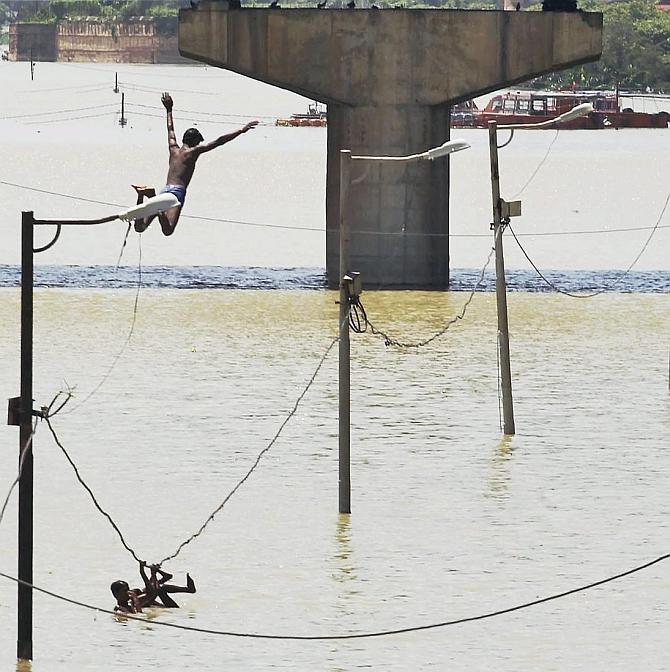 IMAGE: A boy jumps from submerged electric poll in the flooded water of river Ganga in Allahabad on Sunday. Photograph: PTI Photo
In Uttar Pradesh, Ganga is flowing above the danger mark at Fafamau (Allahabad), Mirzapur, Varanasi, Ghazipur and Ballia while Yamuna is flowing above the red mark at Chillaghat (Banda) and Naini (Allahabad) and Mohna (Jalaun).
Similarly, Sharda river is flowing above the danger mark at Palliakalan (Kheri).
Vast areas in several villages of Malda district in West Bengal have submerged, affecting a population of nearly 20,000, even as heavy to very heavy rain in districts of southern parts and in the Sub-Himalayan region of are predicted for Monday, triggered by a low pressure.
Additional District Magistrate, Malda, Kanchan Chowdhury said the rise in the water level of the river was due to the release of 10 lakh cusecs of water from the Sone dam in Uttar Pradesh.
Heavy to extremely heavy rainfall and created flood like situation in Rajasthan with Baran, Pratapgarh, Chittogarh and Jhalawar districts as the worst affected. The water level in Chambal river in Dholpur crossed the danger mark on Sunday.
IMAGE: People shift to a safer place after their houses submerged with water of River Ganga in Allahabad. Photograph: PTI Photo
Six persons of a family died when a portion of their house collapsed in Baran district of Rajasthan on Saturday.
A total of 33 people were airlifted by Air Force on Sunday from two locations in Pratapgarh district while 24 others were airlifted from Baran on Saturday.
Several others are also stranded and rescue operations are on. "Three persons are trapped at an island in Parvati river. They had gone for fishing in the river but suddenly the water level in the river rose. Efforts are on to rescue them," Baran Collector SP Singh said.
In Bihar, National and State Disaster Response Force have been deployed and Army has been put on alert as the rising water level of Ganga has created flood like situation in all the districts situated along the banks of the river.
Ganga and six other rivers were flowing above danger mark in Patna, Bhagalpur, Khagaria, Katihar, Siwan, Bhojpur, Buxar and Hajipur districts, a disaster management department statement said.