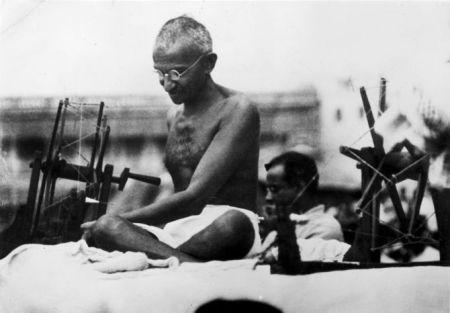 Over 60 of Mahatma Gandhi's most prized possessions, including a 'charkha' he used in Yerwada Jail during the 'Quit India Movement', will go under the hammer at a leading British auction house on November 5.
The charkha (spinning wheel), with a minimum bid of 60,000 pounds (about Rs 59.322 lakh), was used by Gandhi while he was in the prison in Pune and was later gifted to American Free Methodist missionary Revd Floyd A Puffer.
Puffer was a pioneer in Indian educational and industrial cooperatives. He invented a bamboo plow that was later adopted by Gandhi.
Gandhi presented the charkha to Puffer for his work in Colonial India.
Auction house Mullock's specialist Richard Westwood Brookes said, "This would have been one of Gandhi's most prized possessions as he devised the workings of it himself. The charkha was used by him in Yerwada Jail whilst fighting for the rights and independence of India. It has impeccable provenance and is unquestionably the most important Gandhi artifact we have ever had for sale."
Mullock's will auction over 60 Gandhi-related artifacts. Highlights include important documents, photographs and books, including an early publication advising German Jews to take up 'Satyagraha' during the holocaust.
Under the British Raj, cotton grown in India was shipped to the UK for making garments, which were then shipped back to India and sold at a price that the people could not afford.
In order to resist the British, Gandhi encouraged Indians to spin and weave their own cloth.
Since the traditional charkha was bulky and difficult to move, he needed an instrument that could be transported easily. During his imprisonment in Yerawda jail, Gandhi had devised the portable spinning wheel that folds and has a handle for carrying.
Gandhi often mentioned that his daily spinning was a form of meditation.
The sale will also include a number of historic items related to the Sikh and Mysore Kingdom.
Most notable of them are a 19th century painting of Tipu Sultan, a British school painting of the Sultan's daughter dated 1837, an early account dating to 1805 of Maharajah Ranjit Singh, the lion of Punjab and a rare miniature Koran printed for Muslim soldiers who fought alongside allied forces in the First World War.
Westwood Brookes said, "We have a wide selection of Gandhi and India-related artifacts for sale. They have been carefully selected based on rarity, quality and historical importance. I don't think we will ever witness a sale of this magnitude ever again."
Image: Mahatma Gandhi at a spinning wheel during a 'charkha' demonstration in Mirzapur, Uttar Pradesh in June, 1925.
Photograph: Getty Images
© Copyright 2023 PTI. All rights reserved. Republication or redistribution of PTI content, including by framing or similar means, is expressly prohibited without the prior written consent.