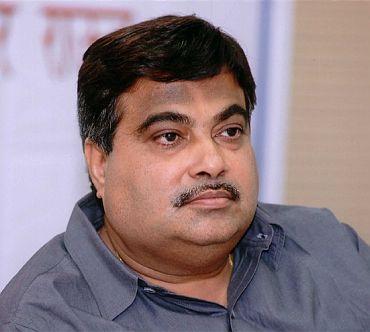 In comments that could kick up a row, Union minister Nitin Gadkari has said the government at the Centre is of 'Ram bhakts' (devotees) and those who shout 'Jai Shri Ram' slogans.
Gadkari, a senior Bharatiya Janata Party leader, made these remarks on Tuesday while announcing the government's decision to construct the Ram-Janki Marg, connecting Ayodhya with Janakpur in Nepal.
"This is a government of 'Ram bhakts', government of those who shout 'Jai Shri Ram' slogans. Hence I promise you that Ram Van Gaman Marg will also be upgraded to a national highway and the work will commence in four months," the union road transport minister said addressing an event in Uttar Pradesh's Faizabad.
The minister was responding to the concerns raised by Faizabad BJP MP Lallu Singh about the condition of Ram Van Gaman Marg, connecting Ayodhya with Chitrakoot in Madhya Pradesh.
According to the epic Ramayana, Lord Rama took this route to reach the Chitrakoot forest to serve an exile of 14 years after abandoning his claim to Kosala's throne.
The minister announced the construction of 'Ram-Janki Marg' at a cost of Rs 2,000 crore. The road will connect Ayodhya with Janakpur in Nepal, to which Sita, the wife of Lord Rama in the epic 'Ramayana', belonged.
"Lord Rama is our ideal, and we will not destroy Ram Setu (Adams bridge) in Tamil Nadu, instead we will develop it," Gadkari said.
Uttar Pradesh minister and Samajwadi Party leader Azam Khan took a swipe at Gadkari for his remarks and said the government of disciples of Lord Rama should not "harass people" of other faiths".