Municipal authorities have envisioned a comprehensive and pro-active plan to combat dengue this year with focussed fumigation at monument sites and markets in Delhi, which will host the G20 summit in September.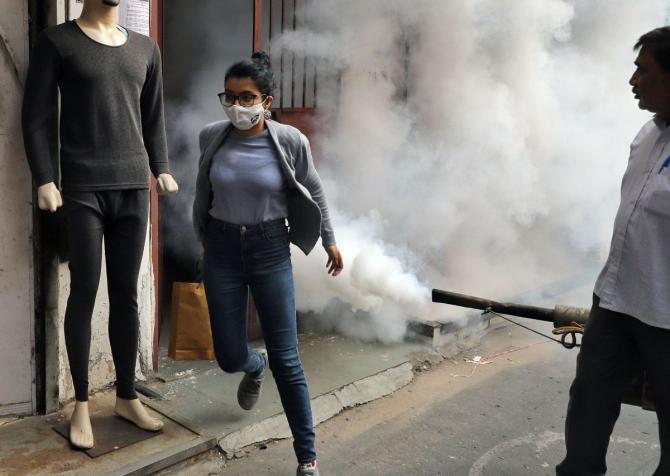 A senior official of the Municipal Corporation of Delhi (MCD) on Tuesday said this year, 'our plan is to make the city cleaner, safer and more vibrant' so that the visiting delegates of the influential bloc go back with a wonderful experience.
A number of meetings will be hosted in the national capital as part of the G20 events, followed by the summit in September, a month when dengue cases are generally on the rise in Delhi.
The city had reported 4,469 dengue cases in 2022, and according to the official tally, nine people died due to this vector-borne disease last year.
Of the total cases, 1,420 were recorded in November, 1,238 in October and 693 in September.
"This year we plan to go all-out against dengue, and out efforts would be that the reported cases stand at a bare minimum by the end of 2023. This is also in tune with our vision to make the city cleaner and safer when Delhi hosts G20 meetings and the summit, as also our long-term vision to combat dengue in the successive years," the senior official told PTI.
He also said that fumigation exercise this year are planned to be 'tech-laden' and that besides manual fumigation, the plan is to 'co-opt various technologies' to carry out the anti-dengue drive.
India assumed the year-long presidency of G20 on December 1.
More than 200 meetings of the G20 will be held at 55 locations across the country and the summit will take place here in September.
Various iconic monuments, centrally-protected or otherwise, will be in spotlight, and meeting or excursion activities are planned to be held up at such heritage sites.
"The ASI carries out its own activities to combat vector-borne diseases, but this year, we will go out more pro-actively ourselves and do that, as also we will target market areas, besides ensuring there are no waterlogging after rains in the city," he said.
MCD officials had recently said that the civic body has accelerated its work for giving a makeover to parks, roads, walkways and central verges for the G20 events.
New toilets will be built and old ones will be repaired across five zones of the MCD as part of the civic body's preparations for the G20 summit, the officials had said.
Several roads and parks are being beautified, trees illuminated and public art being installed at many locations in Delhi, they said.
The New Delhi Municipal Council has also started the work to decorate streets and parks under its jurisdiction.
Old grills on the ridge-side of Sardar Patel Marg is being replaced with new ornate grills, and artworks have come up on public walls.
MCD authorities have begun decorating drab public walls in the city, including those of garbage dumps, with thematic paintings and murals. Some of the murals have come up in the last few days, including one near Gandhi Darshan at Rajghat.
The 'dhalao' near Gandhi Darshan was, until recently, a spot passers-by would avoid, but now, it has become a "sort of a head-turner" complete with fresh bright coloured walls.
This mural depicts the famous monuments from various countries which are part of the influential G20 grouping.
Humayun's Tomb, a UNESCO World Heritage Site, has been portrayed on one of its walls in bright orange and ochre hues against a blue backdrop and a colourful 'G20' logo mounted on top.
London's iconic 'Big Ben' rises tall on the edge of the 'dhalao' building and the 'Statue of Liberty' on another side of the walls, standing next to the celebrated 'Eiffel Tower' of Paris and flanked by St Basil's Cathedral of Russia.
The G20 or Group of 20 is an intergovernmental forum of the world's major developed and developing economies.
The grouping comprises Argentina, Australia, Brazil, Canada, China, France, Germany, India, Indonesia, Italy, Japan, the Republic of Korea, Mexico, Russia, Saudi Arabia, South Africa, Turkey, the UK, the US and the European Union.
In November, Prime Minister Narendra Modi unveiled the logo, theme and the website of India's G20 presidency during an online event, along with the age-old motto 'Vasudhaiva Kutumbakam' and the words -- 'One Earth. One Family. One Future'.
© Copyright 2023 PTI. All rights reserved. Republication or redistribution of PTI content, including by framing or similar means, is expressly prohibited without the prior written consent.