Paris attacks took the centre stage at the G20 Summit on Sunday with Prime Minister Narendra Modi calling for a united global effort to combat terrorism as world leaders joined a clarion call to eliminate ISIS network.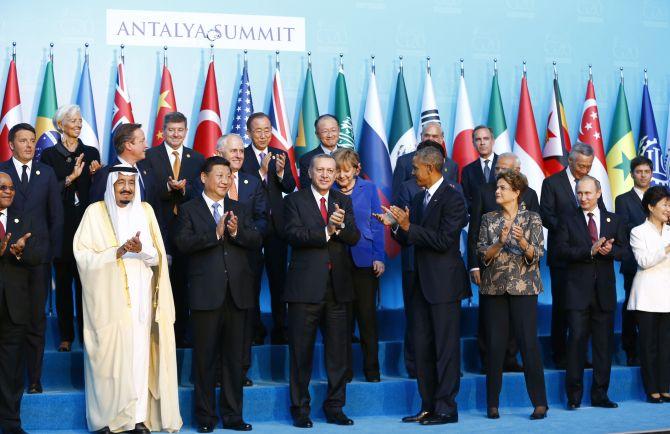 Members of the G20 countries applaud after posing for the traditional family photo during the leaders' summit in the Mediterranean resort city of Antalya, Turkey. Photograph: Murad Sezer/ Reuters
"Today, we meet in the tragic shadow of dreadful acts of terrorism. Combating it must be major priority for G20," Modi said in Antalya at the G20 Summit of leaders from the world's top-20 economies.
As the two-day Summit began in this Turkish coastal resort town, the US President Barack Obama vowed to stand with France in hunting down the perpetrators of Paris attacks and said, "The killing of innocent people based on a twisted ideology is an attack not just on France, not just on Turkey but it is an attack on the civilised world."
He also vowed to "redouble" efforts to "eliminate" the ISIS jihadist network, as the gruesome Paris attacks and the war in Syria overshadowed the Summit.
The G20 Summit, which was expected to mainly discuss inclusive economic growth and climate change, was set to adopt a resolution at the end of the two-day meeting on Monday calling for better coordination and exchange of information to cut off funding and a more comprehensive approach on "addressing the conditions conducive to terrorism."
Modi also participated in a meeting of BRICS leaders on sidelines of G20 Summit and condemned the dreadful acts of terrorism in Paris.
"The entire humanity must stand together as one against terrorism. The need for a united global effort to combat terrorism has never been more urgent. This must also be a priority for BRICS nations," he said.
The declaration on terror, separate from the main Summit declaration, may seek quicker implementation of the Financial Action Task Force, which involves stopping individuals sending money to groups like Islamic State and tackling the black market for oil that's key to its funding.
It would also talk about plans to prevent terrorists from exploiting technology, communications and resources to incite terrorism acts, including through the Internet.
UN Secretary General Ban Ki-moon said he will soon submit to the UN General Assembly a comprehensive plan to deal with violent extremism and terrorism.
On the sidelines, US President Obama met world leaders including Turkish President Recep Tayyip Erdogan and said the G20 Summit is traditionally a forum to discuss economic issues facing the globe "but the skies have been darked by horrific attacks that took place in Paris just a day and half ago."
The summit, which opened on Sunday, will still talk about the current state of the global economy, sustainable growth, development and climate change, investment, trade and energy, besides the refugee crisis.
The G20 countries account for 85 per cent of the world economy, 75 per cent of the global trade and two-third of the world's population.
During the G20 meeting, some world leaders were also expected to voice concern over delay in implementation of the quota reform of the International Monetary Fund, aimed at giving more voice and voting power to the emerging economies as well as providing a pitch for cutting transaction cost for transferring money from abroad.
China has also pitched for IMF quota reforms and wants the G20 to reform the voting rights at the multilateral lending agency to give emerging economies a larger role.
The G20's mandate is to foster economic and financial stability and the 2015 Summit agenda refers to "strengthening the global recovery" and enhancing market regulation, energy policy and climate change.
The killing of 129 persons in Paris terror attacks linked to the Islamic State ahead of the Summit has put pressure on global leaders to enhance cooperation in their fight against terrorism.
Russian President Vladimir Putin said, "We have all seen the horror that took place recently in Paris and we sympathise with the affected people." Russia is "always in favour of joining efforts to deal effectively with the terrorist threat," he said. "Of course it is necessary to act in strict accordance with the United Nations."
Chinese President Xi Jinping said, "We will work more closely with the international community to reject and fight terrorism in all its manifestations," he said.
"It should be our aim to coordinate our action against Daesh," European Union President Donald Tusk said in Antalya.
Most countries, including the US and EU, officially refer to ISIS or Islamic State as 'Daesh', while some of them have been even urged to call it "un-Islamic state." Erdogan said the Summit will carry on discussions on pre-determined agenda items, but there will be a strong message coming out of the meeting on terror. The issues to be discussed included climate change and refugee crisis, he said.
In his lead intervention at G20 working lunch, Modi also proposed a seven-point agenda on climate change and called for target date before 2030 to reduce high costs of transferring remittances.
Modi also outlined India's plan for action on climate change and approach to the upcoming Climate Summit in Paris. Several leaders also made a strong call for attending the upcoming Climate Summit in the French capital, which faced its deadliest ever terror attack on Friday night wherein at least 129 were killed and hundreds other were injured.
As the Summit got underway, a suspected ISIS jihadist blew himself up in south-eastern Turkey near the Syrian border during a police raid. Five police officers were injured.
Earlier on Saturday, four suspected IS militants were shot dead by the army when they approached an army checkpoint in Gaziantep. Besides, police arrested seven suspected IS members in Turkish capital Ankara, local media reports said.
Turkey had scaled up its hunt for ISIS members ever since a series of deadly attacks including bombings took place in Ankara on October 10, killing 107 people.
Welcoming the world leaders, Erdogan asked them to send "very strong, tough" message against terror.
"I believe that our stance against international terrorism will find its expression in a very strong, tough message at the G20 summit," Erdogan said.
European Commission President Jean-Claude Juncker said: "Those who organised, who perpetrated the attacks are the very same people who the refugees are fleeing and not the opposite. And so there is no need for an overall review of the European policy on refugees."
The Paris attacks have turned Antalya into a heavy-guarded town and all musical events including at the official dinner tonight have been cancelled as a mark of respect for the victims of Paris attacks.
Modi, who reached Antalya late Saturday night from London after his three-day visit to the UK, said the G20 leaders have gathered to "build a prosperous future for the world", but today they were meeting in "the tragic shadow of dreadful acts of terrorism, united by a sense shock, pain and outrage".
"We are united in condemning the barbaric attacks in Paris this week; and, the recent bombings in Ankara and Lebanon. We share the sorrow of Russia for the lost lives in the fallen aircraft in Sinai.
"These alone are a stark reminder of the dark force we face -- larger than specific groups and particular targets and territories. It is a major global challenge of our times. It not only takes a tragic toll of lives, it also extracts a huge economic cost and threatens our way of life," he said, and called for a comprehensive global response.