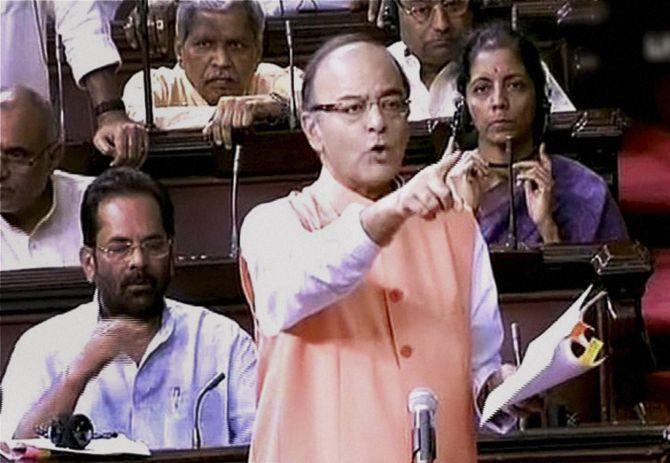 Parliament on Wednesday saw a washout as the Opposition aggressively pressed for ouster of External Affairs Minister Sushma Swaraj and Rajasthan Chief Minister Vasundhara Raje, as also Madhya Pradesh Chief Minister Shivraj Singh Chouhan, rejecting the government's offer for a debate.
Both Houses saw strong demands for resignation of Swaraj and Raje for their dealings with Lalit Modi, former Indian Premier League Chairman who is being investigated by Enforcement Directorate in an alleged money laundering case. There were also demands for Chouhan's resignation in connection with the Vyapam scam.
While Rajya Sabha failed to transact any business for the second straight day due to the uproar, Lok Sabha was paralysed on the first working day of the Monsoon Session. Both Houses were adjourned for the day, minutes past 2 pm.
In the Upper House, as soon as obituary references were made, several opposition parties, including the Congress, Bahujan Samaj Party and the Left, insisted that no debate was possible without the resignation of Swaraj, Raje and Chouhan.
Satish Chandra Misra (BSP), Naresh Agarwal (Samajwadi Party), Tapan Kumar Sen (Communist Party India-Marxist) and D Raja (Communist Party of India) said they had given notices under Rule 267 to suspend business to take up discussion on Lalit Modi issue and Vyapam scams.
Defending Swaraj, Leader of the House and Finance Minister Arun Jaitley asked the opposition to point out one provision of the law which she has violated in allegedly trying to help Lalit Modi.
Jaitley, while insisting on a discussion, hit back at Congress by referring to allegations of financial irregularties against its chief ministers in Himachal Pradesh, Pudducherry and Kerala.
Leader of Opposition Ghulam Nabi Azad suggested that some members who had given adjournment notice should be allowed to speak, prompting Jaitley to protest and ask whether such a practice could be allowed everyday.
Jaitley accused the opposition of doing politics of slogan-shouting. "There has been enough of politics of slogan-shouting. You start with the debate. The House will not allow slogan-shouting," the Bharatiya Janata Party leader said.
Mayawati (BSP) attacked Prime Minister Narendra Modi saying the episode had exposed those who had claimed that "na khaoonga, na khane doonga" (I will neither take bribe nor will I allow anyone to take it).
Amid protests by BJP members, she demanded an impartial CBI probe and resignation of Chouhan.
Sharad Yadav (Janata Dal-United) said the ministers whose names have cropped up in the controversies should resign, contending that they will emerge stronger after the probe clears their names.
To emphasise his point, he cited the resignation by him and BJP leader L K Advani after their names cropped up in the Jain Hawala case in 1990s, till their names were cleared.
Rajeev Shukla (Cong), who is IPL Chairman at present, said the Lalit Modi issue was serious enough as it concerned corruption and the concerned ministers should resign.
On the Vyapam scam, Jaitley said it was "squarely a state issue" and if the Opposition wanted to change rule to "discuss state issues and set up new precedents," then issues ranging from Kerala, Himachal Pradesh, Assam and Goa should also be discussed. "So we will be fair to all states."
He added, "If they want to discuss the issue relating to Sushma Swaraj, please start the discussion right now."
Sitaram Yechury (CPI-M) however asserted that Vyapam issue was not just restricted to one state as people linked to it had died even outside Madhya Pradesh under mysterious circumstances.
The verbal clash continued whenever the House met after adjournments, leading to further adjournments.
Image: Union Finance Minister Arun Jaitely speaks in the Rajya Sabha on the second day of monsoon session in New Delhi on Wednesday. Photograph: PTI/TV grab
---
Lok Sabha repeatedly disrupted over Lalit Modi issue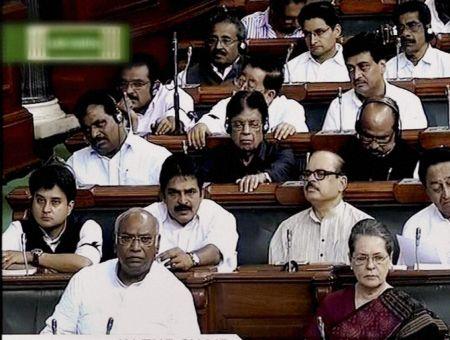 Same was the scene in Lok Sabha, which had its first working day on Wednesday as it was adjourned on Tuesday immediately after convening as a mark of tribute to a sitting member who passed away recently.
It was repeatedly disrupted ever since it met for the day as members of Congress and Left kept storming the Well with placards despite Speaker Sumitra Mahajan's warning of disciplinary action.
The placards read 'Bade Modi meherban, to chhote Modi pehelwan' (a Hindi idiom meaning that a small person is strong if supported by a powerful person) and 'PM chuppi todo' (PM, break your silence), 'Modi ji 56 inch dikhao, Sushma, Raje ko turant hatao' (Show your 56 inch chest by removing Swaraj and Raje).
Rashtriya Janata Dal and Nationalist Congress Party members were seen supporting them.
Swaraj was sitting in the front row along with Home Minister Rajnath Singh and Transport Minister Nitin Gadkari.
Congress members were also sporting black badges on their arms to register their protests and continued wearing them and carrying placards despite Speaker's warning against doing so.
Telangana Rashtra Samithi members also contributed to the uproar by raising the demand for a separate High Court for Telangana. At present, Andhra Pradesh and Telangana share the same high court, two years after the bifurcation.
Mahajan disapproved of the action of the protesting members and warned that "in the event of disorderly conduct, I would be constrained to initiate appropriate disciplinary action against erring members".
She said she has always provided "adequate" opportunity to all sections of the House to raise matters of topical interest and hoped that all the members would adhere to the set norms of etiquette and standards of behaviour.
This added fuel to the fire and immediately Congress and Left members again stormed the Well while those from the TRS trooped into the Well in support of their demand for a separate high court for Telangana.
This forced the speaker to adjourn the House for two hours, a few minutes after noon. The House witnessed similar scenes when it met at 2 PM, when Deputy Speaker M Thambidurai adjourned the House for the day.
The only work done was the green signal given to a motion seeking extension of the term of the Joint Committee of Parliament on Land Acquisition Bill.
---
No resignations, no wrong done by Sushma, 2 CMs, says BJP
A combative BJP top brass rallied behind Sushma Swaraj and the two state chief ministers who are under Opposition attack over Lalit Modi row and Vyapam scam, asserting that they have done no wrong and there will be no resignations. Party leaders were also asked to aggressively "expose" the Congress over its "disinformation campaign".
The assertions came at the BJP parliamentary party meeting where Prime Minister Narendra Modi asked MPs to be "proud" of the Centre's work and BJP chief Amit Shah told them that all the states ruled by it were doing "a very good work with honesty. We have done no wrong." The party put up a strong defence on a day when the Congress-led opposition continued to stall Parliament, demanding resignations of Swaraj and Madhya Pradesh and Rajasthan chief ministers Shivraj Singh Chouhan and Vasundhara Raje over Lalit Modi row and Vyapam scam.
The over 45-minute meeting saw Swaraj telling the parliamentarians that she offered no help to the former IPL boss, Naqvi told reporters after the meeting. "I offered neither any financial benefit to him nor did I help him flee India. I never told the British government to give him travel documents. All I did was to tell them that their decision (on Lalit Modi's request) will not affect their ties with India," Naqvi said quoting her.

"The Congress is trying to make a mountain out of a molehill. Here there is not even a molehill," she said and added that she had rejected pressure from some senior Congress leaders to give diplomatic passport to Coal scam accused Santosh Bagrodia.
Swaraj had earlier tweeted about it. She also strongly defended the Madhya Pradesh government over Vyapam scam, Naqvi said. Shah called upon the party MPs and workers to strongly counter those with "distorted mindset", a dig at opposition parties, and said they, especially Congress, have no real issues against the Modi dispensation.

"We will expose those we are trying to disrupt our journey on the path to progress over fabricated issues. We will take them in Parliament and on streets... We will not let the Congress succeed. Our state governments, our chief ministers are doing a very good work and doing it with honesty," Naqvi quoted Shah as saying. BJP MPs were also distributed two booklets, one 'Vyapam: myths and reality' and second on scams in the Congress-ruled states. Modi asked party leaders to reach out to people on how his government had been working for the progress of the poor and weaker sections of society.
"The way the government has strongly worked to take development to the poor and weaker sections is a matter of pride for us," Naqvi said quoting him.
© Copyright 2021 PTI. All rights reserved. Republication or redistribution of PTI content, including by framing or similar means, is expressly prohibited without the prior written consent.