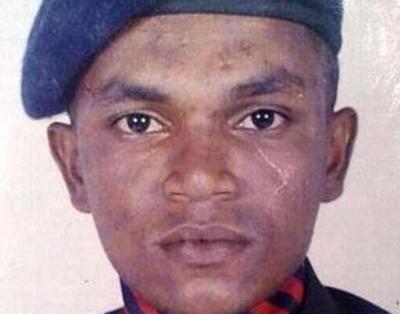 The mortal remains of a jawan, who was found dead after a sting video on the "abuse" of buddy system in the army, were laid to rest in Kollam district of Kerala after a fresh autopsy was conducted following insistence of his family, who raised doubts over this demise.
Earlier, the body of the 33-year-old jawan, Roy Mathew, was brought to Thiruvanathapuram, the state capital, from Maharashtra by a flight on Saturday morning.
Mathew was found hanging from the ceiling of a room in an abandoned barrack in Deolali cantonment in Maharashtra's Nasik on Thursday. His relatives refused to accept that he would have ended his life.
Alleging that there were marks of beating on his feet and blood had clotted in some parts, his relatives, including wife Finy, refused to accept the body until a fresh post-mortem was conducted in Kerala.
Following the plea of the family, a re-post-mortem was conducted at the Thiruvananthapuram medical college hospital after which the body was taken to Karuvelil in Ezhukon in Kollam district for the final journey.
Hundreds of people offered tributes to the soldier as the coffin draped in the Indian Tricolour was kept for public homage. The funeral was held later at a local church.
Earlier, the family alleged that disrespect was shown to the body as it was left unattended in a trolley for nearly half an hour at the airport.
Finy, who was at the airport to receive his mortal remains, said, "I need to get justice. I want to know how it happened. I want to see him."
Relatives have alleged that there were injury marks on his body.
Mathew had gone missing on February 25 after he purportedly figured in an expose by a news portal on the "abuse" in the orderly system in the army.
Army has said it had not questioned Mathew after the video surfaced, which showed soldiers, working as sahayaks, walking dogs of senior army officials or taking their children to school.
Mathew had joined the army 13 years ago and was working as artillery gunner with the Rocket Regiment 214 in Nasik camp since the last one year.
KPCC President V M Sudheeran laid a wreath on the body before it was taken to his home town, over 70 km from Thiruvanathpuram.
© Copyright 2022 PTI. All rights reserved. Republication or redistribution of PTI content, including by framing or similar means, is expressly prohibited without the prior written consent.