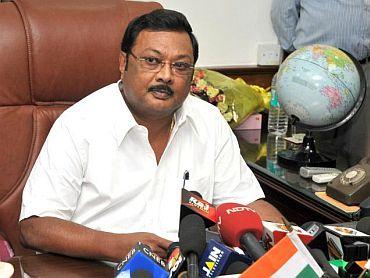 Union Chemicals and Fertilisers Minister M K Alagiri who has been criticised in the Lok Sabha and Rajya Sabha for his prolonged absence during Parliament's ongoing budget session has, in fact, been flying off to Chennai or Madurai every third day.
Chennai is his hometown, where his father Dravida Munnetra Kazhagam chief M Karunanidhi lives, and Madurai is his constituency.

In the six months since he was sworn in on May 2009, the minister made 61 domestic flights to or from Chennai and Madurai, according to an RTI reply provided by the Department of Fertilisers in his Ministry.
The minister undertook 61 domestic and six international flights between May 29 and December 1, 2009 at a total cost of about Rs 14.5 lakh, according to the response to an RTI applicant.
Statistically speaking, the minister was airborne almost every third day during that period and spent hardly any time in Delhi.
The department has refused to divulge how many days the minister attended office or how many meetings of the cabinet he missed.
The department's reply said it does not maintain such records. Neither did the reply say who had travelled with the minister on his trips, where he stayed, or the expenditure incurred on room, food and drinks during his trips.
The RTI application also sought to know from the department the number of departmental meetings chaired by Alagiri after taking over as Union Cabinet Minister. But the department maintained silence on the subject.

All attempts by PTI to contact the minister failed: No one answered the phone at his Delhi residence or on his mobile number. He was reported to be on holiday in the Maldives.
Alagiri's absence from Parliament has been commented upon adversely since the UPA coalition is preparing for a possible voting in the Lok Sabha if opposition initiated cut motions to the government's budget proposals.
When asked about the minister's absence from Parliament, the Speaker of the Lok Sabha Meira Kumar indicated her unhappiness, saying: "We have received no communication from him. Whenever he (Alagiri) comes, I will ask him whatever is his problem I will try to resolve..."
She reminded him that 'Parliament runs on courtesy and decorum'.
The opposition had recently objected to the minister's absence from the Lok Sabha during Question Hour and did not allow Alagiri's junior Srikant Jena to reply to a question.