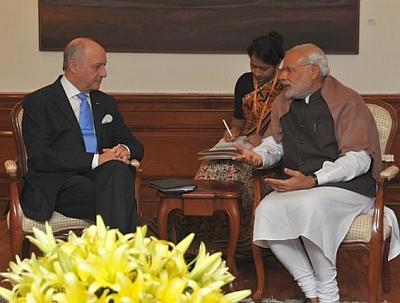 Vowing to continue its "strong" response against perpetrators of Paris attack, France on Friday said India was on the "same boat" in fighting terrorism and will cooperate with each other in dealing with the "major" challenge facing the world.
French Foreign Minister Laurent Fabius, who arrived in New Delhi a week after the deadly terror attack in Paris, met Prime Minister Narendra Modi and discussed ways to tackle the menace effectively, on a day terrorists held 170 people hostage at a Mali hotel which included Indian and French nationals.
"I want to say that France is grateful for tremendous support it has received from the international community including Indian friends. The attackers will not go unpunished and our response is and will be strong," Fabius said while ruling out any possibility of negotiations with terror groups.
The visiting minister, in New Delhi to hold deliberations with India on the preparations ahead of the crucial Paris climate summit, said fighting against international terrorism and combating climate change are the two major challenges of the 21st century.
Appreciating India's position on fighting terror, he said, "We have a good cooperation with our Indian friends on this. I was discussion it this morning with Prime Minister Modi. We shall develop our cooperation... we are in the same boat."
He said Modi once again expressed solidarity with people of France, who are grappling with the trauma of the ghastly attack.
Calling for concerted global efforts to take on Islamic State, he said France has moved a resolution at the United Nations for effective action against the terror outfit that had claimed responsibility for the Paris attack.
French has resolved to hunt down terrorist outfit Islamic State and has been pounding its bases across Syria by aerial strikes.
On the Mali hotel attack, he said he was in touch with the French authorities and a crisis unit has been formed at the French Embassy there.
"Those people who says that they are fighting for freedom... In fact they are murderers and they want to kill everybody who do not share their domination and ideology. They use religion whereas the religion says the contrary.
"I think their promised ideal life in reality consists of killing people and being killed. Therefore, it is not possible to negotiate with them, because all they want is to kill everybody who do not accept their domination and therefore we have to fight them nationally and internationally," Fabius said at a joint press conference with Environment Minister Prakash Javadekar.
Asked whether there was any intelligence input about the Paris attack from any European country, he said the information was not from Europe.
The French foreign minister said despite the terror attack, his country decided to go ahead with the climate conference after talking to the participating countries.
Heads of state and government of over 137 countries are likely to participate in the conference.
Fabius said authorities decided not to allow marches during the course of the summit as part of security arrangement as they may draw huge crowd.
Asked whether West's certain policies were responsible for growing attacks, he replied in negative and called it "pure pretext".
"It is not because of what we are doing that they attacked us. It is because they want to attack us and we have to deal with that."
Javadekar said India stands by France in its fight against terrorism and that hosting of the climate conference just over two weeks after the terror attack will be appropriate reply to the "dastardly act".
Modi had described the terror assaults in France as an "attack on humanity" and asked the UN to define terrorism before it is too late so that the world knows who is backing terror and who is against it.