French Prosecutor Francois Molins said on Tuesday that one of two jihadists who attacked a church in a Normandy town, and slit a priest's throat, was 19-year-old Adel Kermiche.
Kermiche was known to security services, having twice been arrested on his way to Syria, and was under house arrest and wearing an electronic monitoring bracelet at the time of the attack.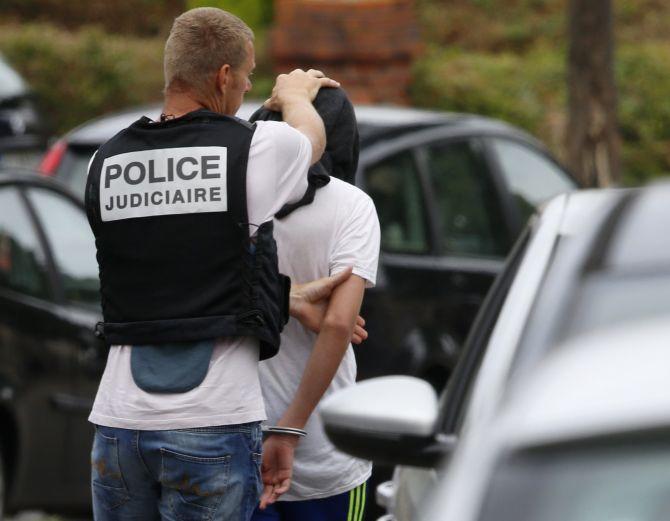 IMAGE: French judicial investigating police apprehends a man during a raid after a hostage-taking in the church in Saint-Etienne-du-Rouvray near Rouen in Normandy. A priest was killed with a knife and another hostage seriously wounded in an attack on a church that was carried out by assailants linked to Islamic State. Photograph: Pascal Rossignol/Reuters
Molins said Kermiche and an unknown accomplice, armed with knives, had stormed the church in Saint-Etienne-du-Rouvray, taking hostage the 86-year-old priest, three nuns and two worshippers.
One of the nuns managed to escape and call police, who, upon arrival, tried to negotiate with the hostage-takers through a small door.
Molins said police were unable to launch an assult on the church as three hostages were lined up in front of the door.
Two nuns and one worshipper then exited the church followed by the two attackers, one carrying a handgun, who charged police shouting "Allahu Akbar" (God is greatest).
Both attackers had on them a "fake explosive device covered in aluminium foil".
The priest was found dead with his throat slit, and an 86-year-old worshipper had severe knife wounds, said Molins.