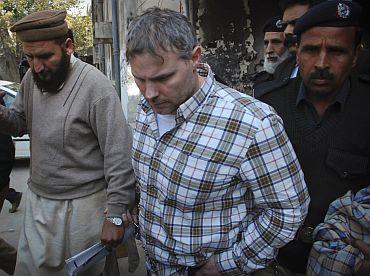 The United States has conveyed a veiled threat to Pakistan that their bilateral defence cooperation can come under a cloud if the standoff on the issue of double murder-accused US national Raymond Davis' immunity persists.
A three-member visiting delegation of the US House Armed Services Committee conveyed this warning to Pakistani leaders.
"In a meeting today with Prime Minister (Yousuf Raza) Gilani, a bipartisan US congressional delegation protested the continued illegal detention of the American diplomat in Lahore," the Dawn quoted a press statement issued by the US embassy.
Under diplomatic norms, protestations or differences during high-level interactions are not officially revealed to the press by foreign missions.
The statement said the delegation "called on the government of Pakistan to abide by its obligation under international and Pakistani law to recognise his diplomatic immunity, and immediately release him."
A source, who was present at the meeting, said the delegation's protest was quite strongly worded and was being seen as a warning that bilateral defence cooperation could face problems if Davis was not granted immunity and released without delay.
Meanwhile, a statement issued by the prime minister's office said that while responding to US congressmen's concerns about the accused diplomat's welfare, Gilani assured them that Davis had been extended due facilities and security by the Punjab government, and also told them that the matter was sub judice and would be decided by the court.
The US House Armed Services Committee, which is responsible for the funding and oversight of defence spending and legislations relating to defence, would soon begin deliberations on the promised two-billion-dollar military and security aid for Pakistan.
Image: US consulate employee Raymond Davis is escorted by officials out of court after facing a judge in Lahore on January 28, 2011.
Photograph: Tariq Saeed/Reuters