'I want France to remain itself. The barbarians who attack France would like to disfigure it. They will not make it change.'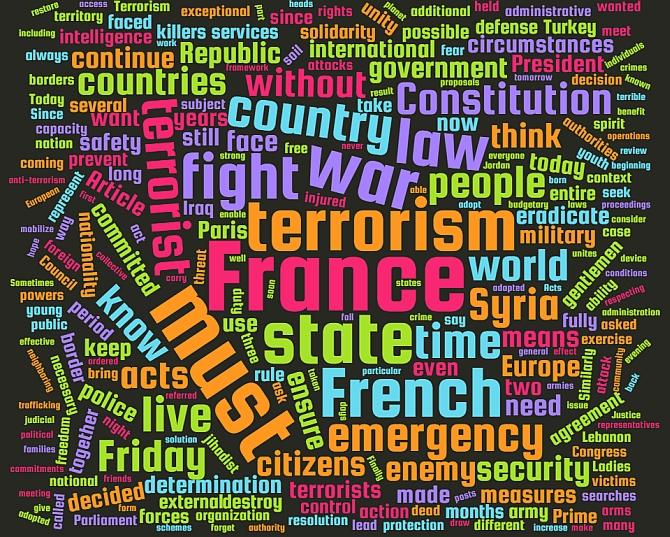 A word cloud analysis of French President Hollande's speech shows the words he used more often in his speech. Read the FULL SPEECH HERE
"France is at war," French President Francois Hollande said on Monday, November 16, as he addressed a joint session of both Houses of the French parliament, and reiterated that the nation was committed to 'destroying' the so-called Islamic State group (Daesh) after Friday's deadly attacks.
'France is at war. They are the work of an extremist army fighting us because France is a country of freedom, because France is the homeland of human rights,' he said. 'France is not engaged in a war of civilisations because those assassins don't represent a civilisation. Our democracy has triumphed before over adversaries that were much more formidable than these cowards.'
During the address that marked the first time in more than six years that a French president addressed both Houses of parliament, the Senate, and the National Assembly, Hollande said: 'The faces of the dead people, of the wounded, of the families don't leave my mind.'
'In my determination to combat terrorism, I want France to remain itself. The barbarians who attack France would like to disfigure it. They will not make it change,' Hollande declared.
Vowing to adopt hard-line security measures, Hollande outlined a root and branch overhaul of the country's foreign and domestic policies that would involve changes to the country's constitution.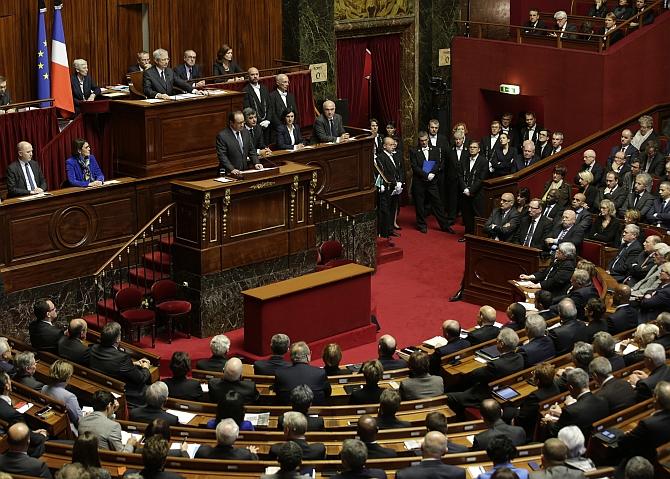 IMAGE: French President Francois Hollande addressed a special session of his country's parliament. Photograph: Philippe Wojazer/Reuters
Hollande announced that he would table a bill to extend the state of emergency declared after the attacks for three months and would suggest changes to the constitution.
The French president said 5,000 more police officers will be hired over the next two years, along with 1,000 more border officials. He said there will be no reduction in the country's military strength until 2019.
Hollande also called for changes to the French constitution whereby French citizens with dual nationality who were convicted of terrorism offenses are stripped of their citizenship. He added that the authorities should be able to block dual-nationals returning to France if they posed a terrorist threat.
The New York Times reports that under the current state of emergency, French police may conduct raids without a warrant. At the moment, according to the French interior minister, 104 people had been placed under house arrest as the result of 168 raids across the country, and 23 people have been taken into custody for further questioning.
The police also found several weapons, 'including 19 handguns, eight long guns and four heavy weapons, as well as computer hardware, mobile phones and narcotics.'
Hollande criticised what he said was a fractured and incoherent international response to fighting Daesh, announcing he would meet with Presidents Vladimir Putin and Barack Obama to 'unite the strength' of France, Russia, and the United States.
The French president also demanded a rapid implementation of 'coordinated and systematic controls' of the European Union's internal and external borders, stressing that France would patrol its national borders if Europe does not comply.