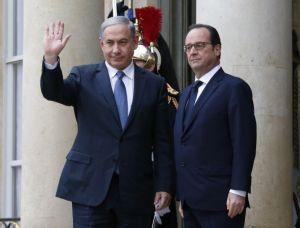 France apparently wanted to keep the Israel-Palestinian conflict out of the Paris march but Israeli domestic politics seems to have prevailed as the 2 leaders participated in the largest demonstration of people's unity against terrorism in Europe.
Israeli Prime Minister Benjamin Netanyahu and Palestinian Authority President Mahmoud Abbas had their closest encounter in years on Sunday when they joined world leaders to march against terrorism in Paris after 17 people were killed in 3 days of attacks.
Wary that the unity march against terror could get entangled in diversionary issues like Jewish-Muslim divide or Israel- Palestinian conflict, the French government wanted to keep both Netanyahu and Abbas out of the solidarity show.
Israel's Channel 2 earlier reported that the French foreign ministry preferred that Netanyahu would not join the march because "his arrival could raise difficulties".
Ha'aretz Online later in a report claimed that French President Francois Hollande even conveyed a message to the Israeli prime minister over the weekend asking him not to come for the march, citing an Israeli source who was privy to the contacts between the Elysees Palace and the PMO.
Hollande's National Security Advisor Jacques Audibert reportedly contacted his Israeli counterpart Yossi Cohen and said that the French president would prefer that Netanyahu not attend, the source was quoted as saying.
Audibert is said to have explained that Hollande wanted the event to focus on demonstrating solidarity with France and to avoid anything liable to divert attention to other controversial issues, like Jewish-Muslim relations or the Israeli-Palestinian conflict.
The French NSA had expressed hopes that the Israeli premier would understand the difficulties his arrival might pose and would announce that he would not be attending.
The source reportedly said that one of the French concerns which was not conveyed to representatives of the Israeli government was that Netanyahu might take advantage of the event for election campaign purposes and make speeches, especially about the Jews of France.
The Elysee Palace was concerned that such statements would hurt the demonstration of solidarity the French government was trying to promote as part of dealing with the terror attacks.
Netanyahu at first acquiesced to the French request, the source said.
Local media had also reported earlier that he would not attend the rally, citing security reasons.
However, with the election season hotting up in Israel, the whole scenario changed and Netanyahu informed France that he would be attending the march, Ha'aretz Online reported.
Audibert is said to have also made it clear that in light of Netanyahu's intention to arrive, an invitation would also be extended to Abbas.