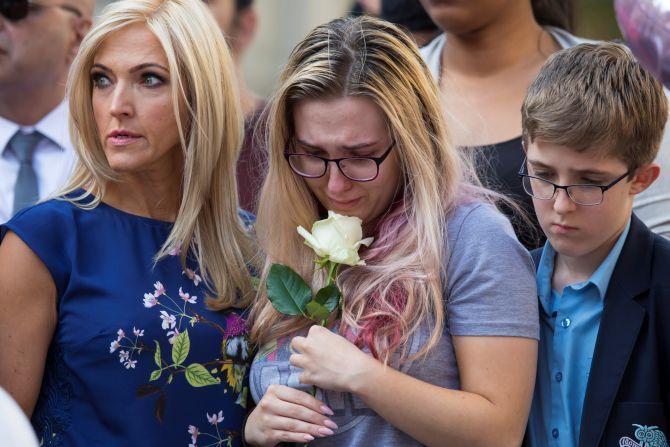 IMAGE: A young woman reacts as she holds a rose while looking at the messages and floral tributes left for the victims of the attack on Manchester Arena, in central Manchester, on Wednesday. Photograph: Jon Super/Reuters
The brother and father of 22-year-old Salman Abedi, suspected of carrying out the suicide bombing at a concert in Manchester which killed 22 people, in Libya.
In Manchester also, Four more men were arrested on Wednesday in connection with investigations into the bombing as the government indicated that Abedi may not have acted alone.
The new arrests came as the injured toll doubled from 59 to 119.
"Three men have been arrested after police executed warrants in South Manchester in connection with the ongoing investigation into Monday night's horrific attack at the Manchester Arena," a Greater Manchester Police statement said.
Another man was arrested in Wigan near Manchester, taking the total number of arrests to five.
A relative and security sources were quoted as saying by AFP that intelligence services had on Tuesday arrested Hashem Abedi, who -- like his older brother -- was born in Britain.
Their father has also been arrested on Thursday in Libya.
A 23-year-old man arrested on Tuesday in the wake of the attack on Monday night, carried out by a bomber identified as 22-year-old Salman Abedi, has been confirmed as his brother Ismail Abedi.
Greater Manchester Police on Wednesday said that they are investigating a network in connection with the bombing.
"I think it is very clear that this is a network that we are investigating," chief constable Ian Hopkins told reporters, confirming that an ongoing search by armed officers who used a controlled explosion at a block of flats in Manchester city centre was related to their investigations into such a network.
He also confirmed an off-duty police officer was among the 22 killed.
United Kingdom home secretary Amber Rudd said that Abedi was known to security services 'up to a point' and it is believed that intelligence agencies had dug into his connections with Al Qaeda and Islamic State (ISIS) in his parents' homeland of Libya.
"It was a devastating occasion, it was more sophisticated than some of the attacks we've seen before, and it seems likely -- possible -- that he wasn't doing this on his own," Rudd said.
The home minister was speaking a day after the UK's terror threat level was raised to its highest of 'critical', which indicates the security services believe more attacks may be imminent.
According to Rudd, up to 3,800 troops will be deployed on the streets around Britain as part of Operation Temperer after British Prime Minister Theresa May ordered to raise the country's terror threat level to 'critical'.
The suspect, Manchester-born Abedi, went to school locally and then studied business management at Salford University, before dropping out from the course.
He made several trips to Libya, where it is thought his immigrant parents had returned in 2011 following Muammar Gaddafi's overthrow.
Mohammed Saeed El-Saeiti, the imam at the Didsbury mosque where Abedi's brother Ismail had been a Quran teacher, branded the attacker as someone filled with hate.
"Salman showed me the face of hate after my speech on ISIS," he said.
The attack killed 22 people, all of whom have now been identified by police but their names will be released during the course of this week after formal identifications are complete.
The Greater Manchester Health and Social Care Partnership said on Wednesday that as many as 119 people had been injured in the attack, 64 of whom remain hospitalised, 20 of them critically.
The number of injured take into account the walking wounded who checked into hospitals a few hours after the attack at a concert by US actress-singer Ariana Grande on Monday night.
The singer has since flown back to the United States and officials have said there remains uncertainty over whether two of her other planned concerts at London's O2 Arena on Thursday and on Friday would go ahead.
Grande's manager Scooter Braun wrote in a public statement: 'We mourn the lives of children and loved ones taken by this cowardly act... We ask all of you to hold the victims, their families, and all those affected in your hearts and prayers'.
Meanwhile, eight of the 22 victims of the attack are known to be eight-year-old Saffie Roussos, Lisa Lees, 50-year-old Jane Tweddle-Taylor, 29-year-old Martyn Hett, 15-year-old Olivia Campbell, 32-year-old Kelly Brewster, 28-year-old John Atkinson, and 18-year-old Georgina Callander.
Two Polish parents were also killed while collecting their daughters from the venue, the Polish Ministry of Foreign Affairs has said.
Foreign Minister Witold Waszczykowski told a Polish radio station: "The parents came after the concert to collect their daughters and unfortunately we have information that they are dead. The children are safe."
The Polish foreign ministry, which did not name the couple, said: "We share the pain of the family and the loved ones of the victims and express our most sincere condolences."
A vigil was held in Manchester's Albert Square on Tuesday as a show of support for victims and their families.
Greater Manchester Police has asked people to remain vigilant and report anything suspicious to the Anti-Terrorist Helpline.
Deputy chief constable Ian Pilling said the announcement of raising the threat level to its highest will provide the force with additional resources to conduct their investigations.
"We are continuing to work with the national counter terrorism policing network and UK intelligence services as part of the response to dealing with the tragic events," he said.
The head of Britain's domestic intelligence agency MI5, Andrew Parker, cancelled his attendance at an international anti-terrorism meeting in Germany this week as intelligence forces work round the clock on the Manchester attack probe.
The Palace of Westminster, which houses the UK Parliament, has been closed to the public for regular tours following police advice, and will not re-open until further notice, a statement on its website said.
The Changing the Guard ceremony at Buckingham Palace has also been cancelled on Thursday to redeploy police officers, the UK's Ministry of Defence said.
The terror attack had already led to the UK's political parties suspending general election campaigning, with polling day just over two weeks away on June 8.
There has been growing speculation if the polls will be postponed as a result of the attack and the 'critical' terror threat level.
Man with knife arrested near Buckingham Palace
A man carrying a knife was on Wednesday arrested near Buckingham Palace in London as Britain raised its terror threat level to 'critical' after the Manchester terror attack.
The man was detained on The Mall, the street that leads up to the Palace, after Metropolitan Police officers on patrol in the area stopped and searched him.
'Patrolling officers detained and searched a man in The Mall. A knife was recovered and the man was arrested on suspicion of a possession of an offensive weapon. He has been taken into custody at a central London police station. The incident is not believed to be terrorism related,' a Met Police statement said.
India's prayers with Manchester attack victims, Modi tells May
Prime Minister Narendra Modi on Wednesday called up his British counterpart Theresa May to express India's deepest condolences over Manchester suicide bombing that killed 22 people and they agreed to continue cooperation on counter-terrorism and countering online radicalisation.
Modi's telephone call was among a handful received by the British prime minister on Wednesday, during which both leaders agreed to continue to cooperate closely on counter-terrorism.
'Prime Minister Narendra Modi conveyed his country's deepest condolences and said India's prayers were with all of those affected,' Downing Street said in a statement.
It said Prime Minister Modi congratulated the people of Manchester on their courage, patience and spirit.
'They agreed the UK and India would continue to cooperate closely on counter-terrorism, including aviation security and countering online radicalisation,' it noted.
India and the UK have a Defence and International Security Partnership dating back to 2015, which involves working on closer cooperation on countering terrorism, radicalisation, violent extremism and cyber security.
May and Modi had reiterated the partnership during the former's visit to India in November 2016.
The other calls taken by May following Monday night's terrorist attack in Manchester included German Chancellor Angela Merkel, King Salman of Saudi Arabia and Swedish Prime Minister Stefan Lofven.
© Copyright 2021 PTI. All rights reserved. Republication or redistribution of PTI content, including by framing or similar means, is expressly prohibited without the prior written consent.