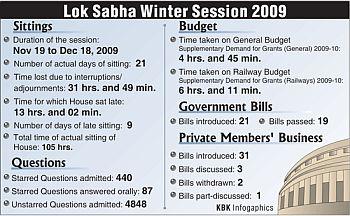 As a correspondent, who has been reporting parliamentary proceedings since 1975, I saw for the first time on Friday a complete deterioration of procedures to get bills enacted as laws.

It takes a minimum of two to three hours for a bill to be explained. But nowadays it just takes few minutes to pass Budgets and even constitutional amendments.

Parliament is meant to enact laws after due consideration but four of them were passed by the Lok Sabha on Friday without a debate and the Speaker rung the curtains on the month-long session, declaring the House adjourned sine die.

The Rajya Sabha, however, remained on track, continuing its business as usual. It will be ending the session only on Monday as originally scheduled.

In the Lok Sabha, the debate was squeezed out because brief adjournments did not end the repeated pandemonium over Telengana that is rocking the House since last week after Home Minister P Chidambaram announced the government's intent to carve the new state out of Andhra Pradesh.

Similar pandemonium on Wednesday was used by the government, with the Speaker's help, to get through three other bills sans debate, including one to give relief to Delhiites from sealing of residences used for business.

Among the bills passed on Friday included one brought only on Thursday by Home Minister

P Chidambaram to grant a privilege to the ministers to take along 'any number of companions or relatives' by air at the same rates at which travelling allowances were payable to them and their family.

Also passed on Friday was a major Trademarks (Amendment) Bill that deserved thorough deliberations as it facilitates Indians and foreigners to secure simultaneous protection of their trademarks through a single application by a single fee submitted in India and puts a ceiling of four months for any objections to such application.

Instead of multiple applications in multiple languages with multiple fees, a single application in the country of origin will suffice trademark registered in countries desired. The bill incorporates provisions of the Madrid Protocol for international registration of trademarks, to which India had acceded in 2007.

Another Commercial Division of High Courts Bill was passed to create a separate commercial bench of high courts with judges having aptitude in accountancy and commercial matters to adopt fast track process for disposal of cases of Rs 5 crore and above.

The Legal Metrology Bill passed by the Lok Sabha that had been cleared by the Rajya Sabha earlier this month seeks to establish and enforce standards of weights and measures and regulate trade and commerce in weights, and other goods that are sold or distributed by weight, measure or number.