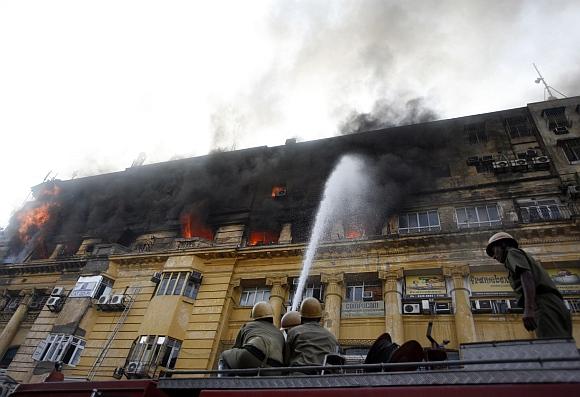 Panic gripped Kolkatans on the first day of the year after a fire broke out on the seventh floor of a multi-storied building in the posh Park Street area here but no one was injured.
Amid new year celebrations, flames were detected at around noon from the server room of Kotak Mahindra office at Apeejay House after which ten fire tenders were pressed into service bringing the blaze under control within a couple of hours, fire brigade officials said.
There was no report of any casualty or injury as all offices were closed due to Sunday, they said, adding the exact cause of fire was yet to be known. Panic struck after some TV channels reported that smokes were billowing from the basement of the building, which also houses a portion of the adjoining Park Hotel.
Later, firemen described the reports as incorrect.
A spokesperson of the Apeejay Surrendra Group told PTI that the fire was noticed by the building's security personnel who switched off electricity and called the fire brigade, which reached within 10 minutes.
The building has a full-fledged fire hydrant system which was used by the security staff to handle the blaze and extinguish it quickly, he said.
Incidentally, the building is located near the landmark British-era Stephen Court building, which was devastated by a major fire last year that claimed 43 lives.
Last month, a deadly blaze had ripped through the AMRI Hospital in the city, claiming 93 lives.
Meanwhile, Chief Minister Mamata Banerjee has ordered identification of all "illegal" constructions in the metropolis, flouting original building plans.
"I have also asked the Disaster Management Minister to see if fire fighting arrangement is in store, especially in all multi-storied buildings. Action will also be taken in case of non-implementation of fire fighting norms," Banerjee said after a high-level meeting with some ministers and officials.
Giving the example of Apeejay House, she said the building has the mandatory open space around it as a result of which controlling the fire was much easier and helped avert  another major disaster.
"Multi-storied buildings should have many exit options for rescue operation during emergencies," she said.
Picture: A file photo of the Stephen Court fire
Photograph: Parth Sanyal/Reuters