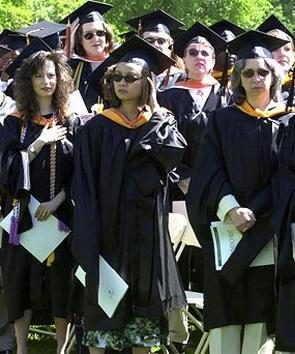 A federal jury on Monday convicted Susan Xiao-Ping Su, the founder of the California-based Tri Valley University.
The university, with nearly 98 per cent Indian students, was shut down by federal agents for being a "sham organisation" on January 19, 2011.
The jury, after two days of deliberation, found Su guilty of 31 counts including visa fraud, wire fraud, mail fraud, conspiracy to commit visa fraud, use of a false document, false statements to a government agency, alien harbouring, unauthorised
access to a government computer, and money laundering, announced United States Attorney Melinda and United States Immigration and Customs Enforcement's Principal Deputy Assistant Secretary Thomas S Winkowski.
"After a prolonged three years off the TVU's shutdown, Su was finally convicted within a few weeks of her trial," said Kalpana Peddibhotla, attorney, Peddibhotla Law Firm in California.
She had collaborated with the North American South Asian Bar Association and taken up the TVU students' cause with the Congressional Asian Pacific American Caucus.
The long-awaited conviction, she said, brings some closure for the many international students who were 'victimised' by the fraudulent school.
Many of these students have been able to move on and they continue to pursue their higher education and career goals.
Unfortunately, many others have had to give up their dreams after their educational and career prospects were stalled by the incident.
"To this day, I still hear from former TVU students who are struggling to get their lives back on track. While I am at least content that Su's fraud was exposed and justice was served, I believe that the US government failed its oversight obligations in allowing this school to exist and thrive at the expense of young people," said Peddibhotla.
She added, "I hope that foreign students have learned from this case that they themselves must be their own diligent advocates in complying with US laws, and for those that choose not to, I hope this serves as a lesson on how short term choices have long term consequences."
Su, in an earlier interview to Rediff.com, had claimed that all she wanted was to run a good school.
She had expressed her apprehension about being convicted, saying, "What if they send me to jail for 50 years."

The evidence at trial showed that Su, 44, engaged in a two-year scheme to defraud the Department of Homeland Security by submitting fraudulent documents in support of Tri-Valley University's petition for approval to admit foreign students and, after having obtained such approval, fraudulently issued visa-related documents to student aliens in exchange for "tuition and fees."
In her petition for approval, Su made material false representations to DHS regarding the Tri-Valley University's admission requirements, graduation requirements, administrators, instructors, class transferability, and intent to comply with federal regulations.
Three purported TVU professors testified that they never authorised Su to use their credentials in connection with the university. Multiple Tri-Valley University employees testified that the university had no requirements for admission or graduation, and that Su routinely instructed her staff to fabricate fraudulent transcripts.
In carrying out the scheme, Su made additional false representations to DHS through TVU's use of the Student and Exchange Visitor Information System, which the United States government uses, in part, to monitor the F-1 student visa programme.
Through her false representations, Su was able to unlawfully obtain and issue F-1
visa-related documents without any regard to the students' academic qualifications or intent to pursue a course of study required to maintain a lawful immigration status.
The jury also convicted Su of harbouring two TVU student-employees to assist her in making the false representations to SEVIS. One of the student employees testified that Su asked him to paint her house and to move furniture.
Su made over $5.9 million through her operation of TVU and engaged in seven money laundering transactions using proceeds to purchase commercial real estate, a Mercedes Benz car and multiple residences.
The investigation began in May 2010 following a tip to the HIS pertaining to irregularities at TVU.
Su was indicted by a federal grand jury on November 10, 2011. She was charged with wire fraud, mail fraud, conspiracy to commit visa fraud, visa fraud, use of a false document, false statements to a government agency, alien harbouring, unauthorised access to government computer, and money laundering.
Su was remanded to the custody of the US Marshal after the jury's verdict.
Su's sentencing hearing is scheduled for June 20 in San Francisco.
Image used for representational purpose only