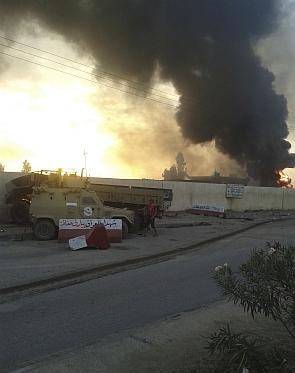 Forty Indians were "uncontactable" in Mosul town of strife-torn Iraq, government has said even as it decided to send former envoy to Iraq Suresh Reddy to strengthen the Indian Mission in Baghdad.
"There are 40 Indians in Mosul whom we have not been able to contact. Despite our best efforts at this stage... they remain uncontactable," External Affairs Ministry Spokesperson Syed Akbaruddin said today.
Asked about reports claiming that they were abducted, he said, "We cannot confirm it. However, they are uncontactable."
He, at the same time, said there were no reports of any Indian being targeted or involved in any violent incident in Iraq.
"The violence there is not targeted at Indian nationals. We are just caught in the crossfire. At this stage we have no reports, no confirmation of any Indian national being involved in any violent accident," the spokesperson said.
In response to a request by the Indian embassy, International Red Crescent had contacted 46 Indian nurses in Tikrit and provided them assistance, he said.
Insurgent outfits have seized the two cities of Mosul and Tikrit.
The spokesperson said Reddy is being sent to Baghdad to strengthen the Indian Mission there which is trying to help the Indians in violence-affected areas. "And we have decided to strengthen the embassy by sending a seasoned Indian diplomat Suresh Reddy who will travel today to Baghdad to assist the embassy in its efforts," Akbaruddin said.
Amid mounting concerns over safety of Indians stranded in Iraq, India has set up a control room in New Delhi to provide information to their families.
Following a direction from External Affairs Minister Sushma Swaraj, a "crisis management meeting" on Tuesday reviewed all aspects of the assistance that can be provided to the Indian nationals stuck in the country.
Secretary (East) Anil Wadhwa had also met Iraqi Ambassador Ahmad Tahsin Ahmad Berwari and discussed the possibilities of ground-level cooperation in assisting Indian nationals in violence affected areas.
The Indian embassy in Baghdad was sending updated reports to the government on their contacts with the Indian nationals in the affected areas.
The government was monitoring the situation on an hourly basis.
The Indian Mission in Baghdad was stated to be touch with the Iraqi government and the UN Assistance Mission in Iraq to ensure the safety of all Indians stranded in the violence-affected areas of that country.
The Indian embassy has already set up a 24-hour helpline to offer assistance to Indian nationals there.
Over 10,000 Indians are estimated to be currently living in Iraq.
The government had on Sunday asked Indians residing in Iraq to consider leaving the country in view of the "precarious" security situation. In an advisory, the government had also asked people not to travel to Iraq.
The militants in the country had intensified their offensive and reached within 60 kilometres of Baghdad.
Strongly condemning the violence in Iraq, India had said it was "deeply concerned" with the deteriorating security situation in that country resulting from recent attacks and taking over of some cities, including Mosul and Tikrit, by terrorist outfits since June 8.
Terming the attacks a "direct threat to the security and territorial integrity" of Iraq, the ministry of external affairs had said India remained strongly committed to the "emergence of a stable, peaceful, united and democratic Iraq" which is in the interest of regional and global peace.
"The Government of India strongly condemns such attacks and firmly stands by the government and people of Iraq in their fight against international terrorism and in their efforts to preserve the unity and territorial integrity of the friendly country of Iraq," it said.
The Congress had on Wednesday approached Prime Minister Narendra Modi seeking the Centre's assistance to bring back Indians stranded in Iraq.
Image: A civilian stands near damaged vehicles belonging to Iraqi security forces are seen during clashes between Iraqi security forces and Al Qaeda-linked Islamic State in Iraq and the Levant in Mosul. Photograph: Reuters
© Copyright 2022 PTI. All rights reserved. Republication or redistribution of PTI content, including by framing or similar means, is expressly prohibited without the prior written consent.