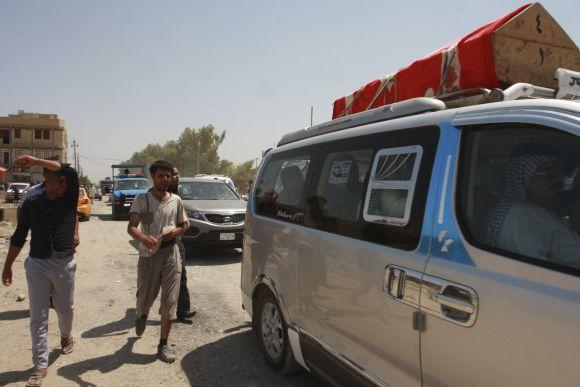 Forty Indian workers have been kidnapped in strife-torn Iraq, prompting the government to launch all-out efforts to trace them. The workers, most of whom may be from Punjab and other parts of north India, were workers of a construction company in Mosul town of Iraq, said External Affairs Ministry spokesman Syed Akbaruddid.
He said the Indian government had no clue about the kidnappers or any concrete information about those abducted and whatever information has been gathered is through International Red Crescent and various other humanitarian organisations.
"Yes, 40 Indians, who were working with the Tariq Nur Alhuda company, have been kidnapped," he said. He said government has not received "any call of any nature from anyone indicating about ransom or about taking of Indians in custody in Iraq".
India is in touch with various humanitarian agencies, the UN Assistance Mission in Iraq and the Iraqi government to gather more information about the kidnapping, he added. "These are difficult situations. We are working with the company. Also we are trying to work with International Red Crescent which has confirmed to us (about the kidnapping).
But they have also indicated that at this stage they do not know the location of these 40 Indian workers who are kidnapped," the spokesperson said. Iraq is witnessing serious strife with militants, backed by al Qaeda, capturing various cities and marching towards Baghdad.
Meanwhile, Punjab Deputy Chief Minister Sukhbir Singh Badal also said that over 40 people from Punjab are being held hostage in strife-torn Iraq and the Centre is continuously monitoring the situation there.
However, External affairs ministry Spokesperson Syed Akbaruddin said in New Delhi that the Indians stranded in Iraq's city of Mosul remain "untraceable". Asked about reports claiming that they were abducted, Akbaruddin said, "We cannot confirm it. However, they are uncontactable."
Sukhbir told media persons that over 40 people from Punjab are being held hostage in that country. He said that Union External Affairs Minister Sushma Swaraj had spoken to him and informed about steps taken by the Centre for the Indians stranded in Iraq.
"Swaraj informed me that the Centre is monitoring the situation on regular basis and has taken up the matter with the concerned people to ensure safety of those struck in Iraq," Sukhbir said.
He, however, did not provide the exact number of people taken hostage in Iraq, but said it was between 40 to 50.
Earlier, Akbaruddin said, "we have decided to strengthen the embassy by sending a seasoned Indian diplomat Suresh Reddy who will travel today to Baghdad to assist the embassy in its efforts." Amid mounting concerns over safety of Indians stranded in Iraq, India has set up a control room here to provide information to their families. In response to a request by the Indian embassy, International Red Crescent had contacted 46 Indian nurses in Tikrit and provided them assistance, he said.
Image: A funeral for a victim killed in a blast in the town of Taji, about 20 km north of Baghdad, on Monday. Photograph: Ahmed Malik/Reuters.