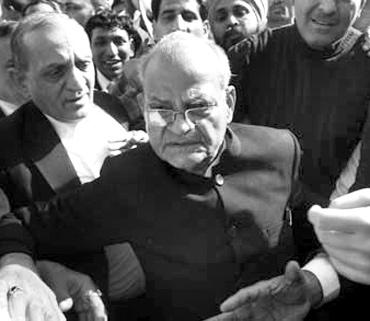 Former Telecom Minister Sukhram was on Saturday awarded five years imprisonment by a Delhi court after being convicted of taking Rs three lakhs as bribe to give a lucrative contract to a private firm in 1996.
Special Central Bureau of Investigation Judge R P Pandey also imposed a fine of Rs four lakh on 86-year-old Sukhram, who held the Telecom portfolio in P V Narasimha Rao's Cabinet.
The CBI prosecutor said Sukhram will be taken into custody and sent to jail to serve the punishment as the sentence exceeded a three-year jail term and convicts in these cases are not granted statutory bail.
Sukhram was held guilty on Friday under various provisions of the Prevention of Corruption Act and the Indian Penal Code.
Various offences under which he has been convicted entail a maximum sentence of 7 years jail term. Sukhram was held guilty for misusing his official position during his tenure as Telecom Minister in award of contract worth Rs 30 crore to private firm Haryana Telecom Limited (HTL) to supply 3.5 Lakh Conductor Kilometers of Polythene Insulated Jelly Filled (PIJF) cables to the telecom department.
Arguing on the quantum of sentence, Sukhram's counsel pleaded that his client is an 86-year-old person and attending the trial for the past 12 to 13 years. The defence lawyer has sought leniency for his client saying Sukhram is suffering from age-related ailments and has also lost his wife.
The prosecutor, however, termed Sukhram as a "habitual offender" saying he has been sentenced in two other cases also and thus deserved no leniency.
"We should not forget that he was a member of Parliament and a minister and has betrayed the confidence of public at large," the prosecutor said.
The CBI, in its chargesheet filed in 1998, had accused Sukhram of showing undue favour in awarding the cable supply contract to HTL.
Sukhram had been put on trial along with HTL chairman Devinder Singh Choudhary who died during the trial. In 2009, Sukhram had been held guilty of possessing disproportionate assets worth Rs 4.25 crore.
© Copyright 2022 PTI. All rights reserved. Republication or redistribution of PTI content, including by framing or similar means, is expressly prohibited without the prior written consent.