Nepal's former prime minister Sushil Koirala, who was credited with promulgating the country's new Constitution in September last year to complete a stalled peace process, died in Kathmandu early on Tuesday after a bout of pneumonia. He was 79.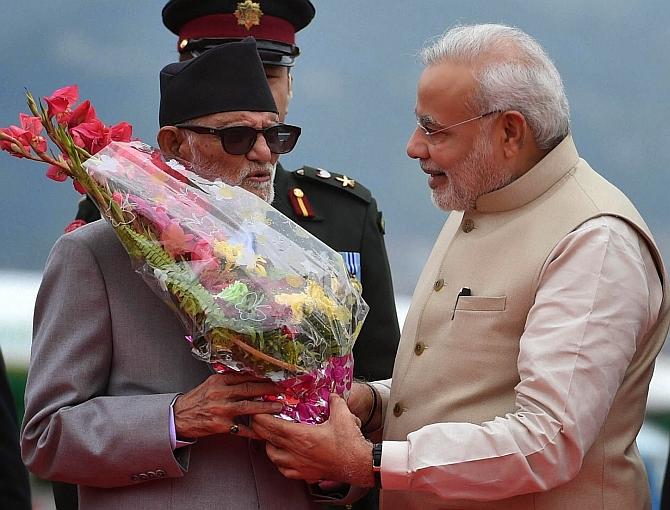 Koirala, who was Nepal's prime minister from February 2014 to October 2015, died at his residence in Maharajgunj in the outskirt of capital Kathmandu at 12.50 am (local time), Nepali Congress general secretary Prakash Man Singh said.
Koirala, the president of the country's biggest political party, the Nepali Congress, was suffering from Chronic Obstructive Pulmonary Disease.
Koirala's doctor Kabirnath Yogi said Koirala died after he developed pneumonia in bronchitis' infection due to change in the weather.
"Everything was normal till Monday evening, the amount of oxygen being administrated to him was increased," Yogi said,
"He had a normal meal yesterday evening. All of a sudden, Koirala's health deteriorated and he breathed his last at 12:50 am."
Koirala's body will be taken to party's central office at Sanepa, Kathmandu, and kept there to enable party cadres and others to pay tributes, Singh said.
Koirala was earlier successfully treated for lung cancer in the US.
Born in Varanasi, India, Koirala entered politics in 1954 and was in political exile in India for 16 years following the royal takeover of 1960.
He was credited with promulgating the new Constitution of Nepal in September last year to complete a stalled peace process and bring stability to the nation.
The new Constitution sparked violence in the country. More than 50 people were killed in clashes between police and Madhesi demonstrators, mostly of Indian-origin, protesting against the charter, which they say leaves them politically marginalised.
He also spent three years in Indian prisons for his alleged involvement in a plane hijacking in 1973. The plane was said to be carrying boxes of cash, which he and his relatives wanted to use to fund the Nepali Congress.
He faced heavy criticism for his government's response to a massive quake that devastated the country last April, killing nearly 9,000 people.
© Copyright 2021 PTI. All rights reserved. Republication or redistribution of PTI content, including by framing or similar means, is expressly prohibited without the prior written consent.