Shimon Peres, former Israeli President who won a Nobel Prize for attempting to end the century-old conflict with Palestine, died on Wednesday, two weeks after suffering a massive stroke.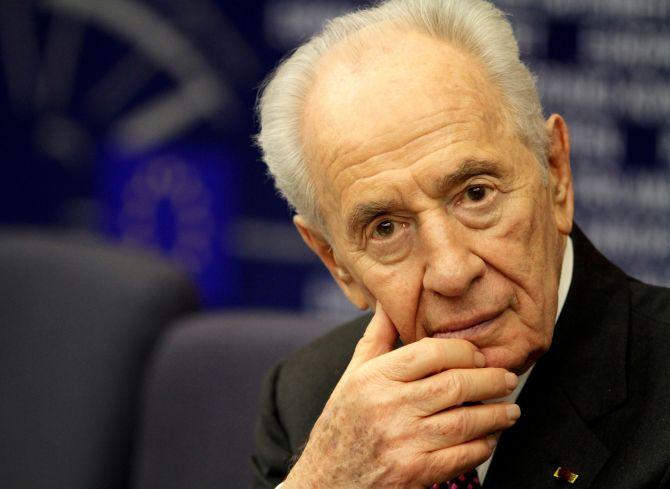 Peres, 93, who twice served as prime minister of Israel and later as the country's ninth President, suffered severe organ failure on Tuesday as well as irreversible brain damage caused by the massive hemorrhagic stroke he sustained on September 13.
He died in his sleep at around 3 am.
His defining achievement was as one of the key architects of the Oslo peace accords for which he was jointly awarded the Nobel peace prize with the then Israeli prime minister, Yitzhak Rabin, and Yasser Arafat, the chairman of the Palestine Liberation Organisation.
The Oslo peace accords constituted a historic breakthrough in the conflict between Jews and Arabs in Palestine. It was the first peace agreement between the two principal parties to the conflict -- Israelis and Palestinians.
Israeli Prime Minister Benjamin Netanyahu expressed his 'profound sadness' over his death.
'Prime Minister Benjamin Netanyahu and his wife Sara express deep personal sorrow over the passing of the nation's beloved former president, Shimon Peres,' a statement read.
The elder statesman was one of Israel's most admired symbols and the last of its founding fathers. Peres had held almost every major political office since Israel was founded in 1948, including his stints as foreign and finance minister.
He was the architect of Israel's secret nuclear programme. As a defence official in the late 1950s and early 1960s, Peres was involved in establishing the nuclear reactor in Dimona.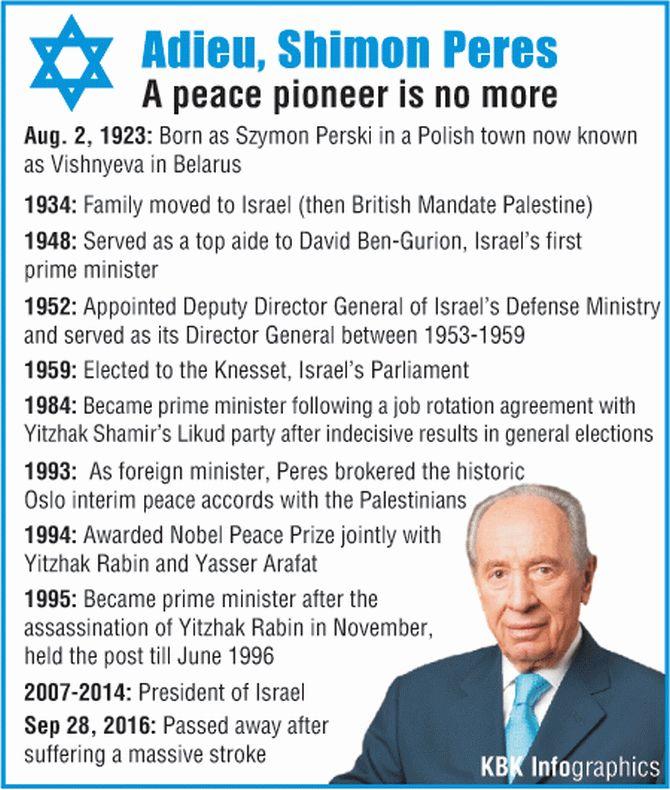 Born in Wisniew, Poland, in 1923, Peres moved to British-mandate Palestine in 1932, where his story became the story of modern day Israel.
Peres entered politics in 1959 as a member of the left-wing Mapai party, a precursor to the modern Labor party.
'The longest serving of all of Israel's public servants, Peres was a person about whom it could rightly be said: The history of the State of Israel is the history of Shimon Peres,' Jerusalem Post said.
Though Peres ran for office five times from 1977 and 1996, he never won a national election outright.
Mourning the death of Peres, United States President Barack Obama called him 'the essence of Israel itself' and said a light has gone out, but the hope he gave will burn forever.
'I will always be grateful that I was able to call Shimon my friend,' Obama said in a statement.
'A light has gone out, but the hope he gave us will burn forever. Shimon Peres was a soldier for Israel, for the Jewish people, for justice, for peace, and for the belief that we can be true to our best selves - to the very end of our time on Earth, and in the legacy that we leave to others,' Obama said.
'There are few people who we share this world with who change the course of human history, not just through their role in human events, but because they expand our moral imagination and force us to expect more of ourselves. My friend Shimon was one of those people,' he said.
'He brought young people from around the world together because he knew they could carry us closer to our ideals of justice and equality,' Obama said.
'Shimon was the essence of Israel itself -- the courage of Israel's fight for independence, the optimism he shared with his wife Sonya as they helped make the desert bloom, and the perseverance that led him to serve his nation in virtually every position in government across the entire life of the State of Israel,' he said.
Photograph: Jean-Marc Loos/Reuters