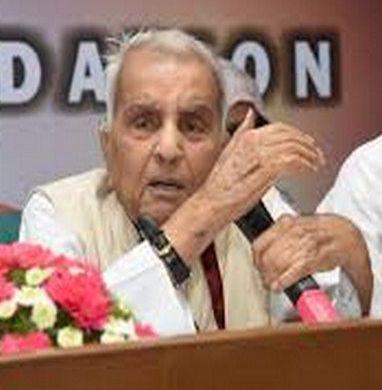 Former chief justice of Delhi high court and activist Rajinder Singh Sachar, who brought to the fore the socio-economic and educational conditions of the Muslim community, passed away at a private hospital in New Delhi on Friday after prolonged illness, family sources said. He was 94.
Sachar was admitted to Fortis hospital earlier this week, sources said.
"He died today of pneumonia with septic shock syndrome and heart-related complications," a source said.
A family friend said, "He passed away at around 12 noon. He was undergoing treatment for ailments related to old age".
The Rajinder Sachar Committee was set up by former prime minister Manmohan Singh for preparing a report on the social, economic and educational status of Muslims and was tabled in Parliament in 2006.
"He was a patient of Ischemic heart disease and was put on pacemaker a couple of months back and had undergone stenting for blocked vessels in the heart," the family friend said.
"He was admitted to the hospital earlier this week. He was not able to take food and was having recurrent vomiting. He developed pneumonia and later succumbed," he said.
The former chief justice of the Delhi high court is to be cremated at the Lodhi Road crematorium in New Delhi.
Sachar was chief justice of the Delhi high court from August 6, 1985 to December 22, 1985. He was also associated with the rights group People's Union for Civil Liberties.