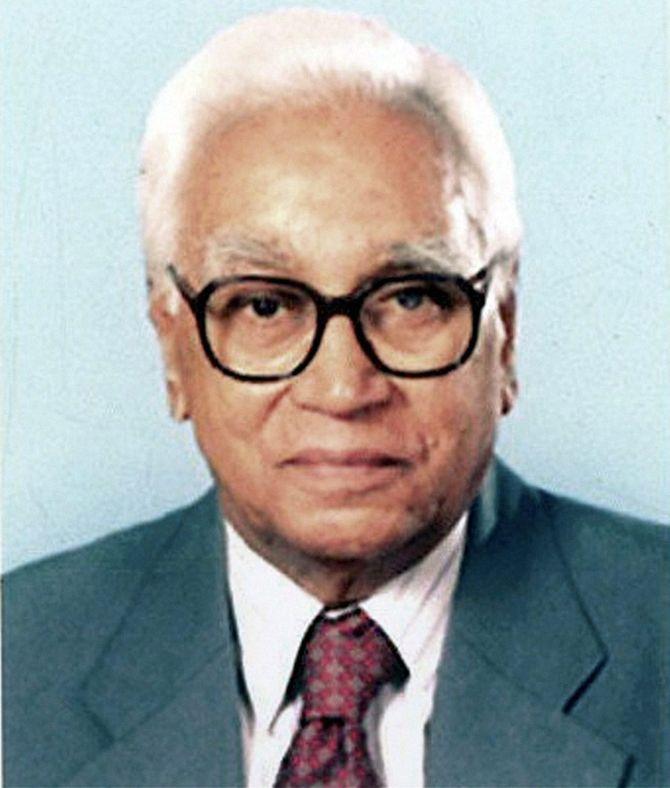 Former Governor of Bihar and West Bengal A R Kidwai died on Wednesday after brief illness at a city hospital. He was 96.
Kidwai is survived by two sons and four daughters. His funeral will be held on Thursday afternoon at the Jamia Burial Grounds.
Prime Minister Narendra Modi mourning his death, tweeted, "My condolences on the passing away of Dr A R Kidwai. His long career in public life included many roles & responsibilities."
"Dr A R Kidwai distinguished himself in the fields of education and social welfare. May his soul rest in peace," he said.
Congress Vice President Rahul Gandhi expressing his condolences, tweeted, "Deeply saddened by the passing away of Dr AR Kidwai former Gov of Bihar, Bengal & Haryana. A scholar & a humanist his loss will be deeply mourned."
Born in 1920, Akhlaq ur Rahman Kidwai served as Governor of several states for a record period of 17 years -- in Bihar (twice), West Bengal and Haryana, in addition to holding temporary charge of Governor of Punjab and of Rajasthan and Administrator of Delhi and of Chandigarh.
Besides, being a member of the Rajya Sabha from 2000-2004, he also served as the Chairman of Union Public Service Commission from 1974-78. He had taken an active role in the '1942 Quit India' movement.
On January 25, 2011 Kidwai was awarded the Padma Vibhushan, the country's second highest civilian award for his outstanding contribution towards public affairs.
Kidwai received an MS degree in Organic Chemistry with Biochemistry from the University of lllinois and completed his PhD from Cornell University in 1950.
He was a distinguished scientist and a researcher in the field of organic chemistry.
A renowned educationist, he was also member and patron of the Delhi Public School Society and president of the South Delhi Women's Polytechnic.
He had also served as the chancellor of the Aligarh Muslim University.
IMAGE: Kidwai had taken an active part in the '1942 Quit India' movement. Photograph: PTI