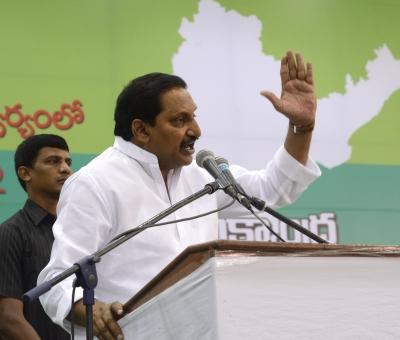 Former Andhra Pradesh chief minister Kiran Kumar Reddy on Thursday approached the Supreme Court against the Centre's decision to create Telangana by bifurcating the state.
A bench headed by Chief Justice P Sathasivam, before whom the matter was mentioned, agreed to list his plea along with other petitions, which will be taken up on Friday for hearing.
A batch of petitions is listed for hearing against the bifurcation of the state.
The apex court had earlier on February 7 and 17 respectively refused to entertain petitions challenging the division of Andhra Pradesh on the ground that they were "premature" as the bill was not cleared by Parliament at that time.
Parliament gave its approval on February 20 for the creation of Telangana by bifurcating Andhra Pradesh.
The court had on February 7 refused to stay the tabling of Telangana Bill and on February 17, it had dismissed two petitions challenging the division of Andhra Pradesh.
The apex court had said it cannot take a different stand and different view from what it had taken on February 7 while terming the plea against Telangana as "premature".
The court had declined to accept the contention that it can now go into the issue of Telangana as the Bill was before Parliament.
"Parliament is seized of the bill. This is not a time for the court to look into it. We understand your (petitioners) point that it is introduced," the bench had said, adding that the plea is "premature" for it to be entertained.
However, it had clarified that the averment made in the writ petitions are open to be entertained at an appropriate stage.
The home ministry has said that the Foundation Day of the new state will be June 2 when Telangana will come into existence and start functioning as a separate state.

Image: Former Andhra CM Kiran Kumar Reddy