President Xi Jinping has called on China's border troops to forge a "great wall of steel" along the country's frontiers by enhancing their capabilities in border defence and control, the state media reported Friday.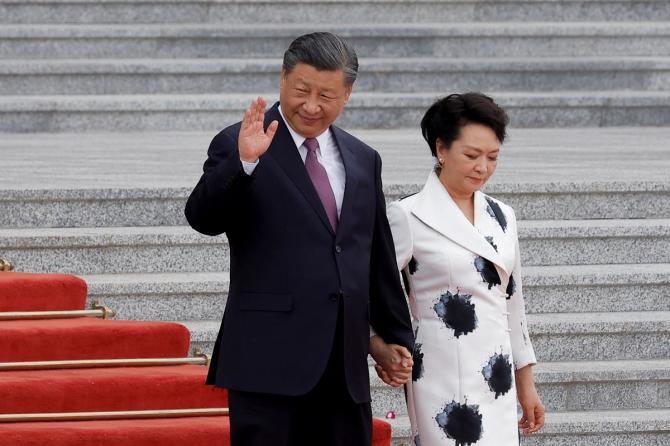 Xi, 69, who heads the ruling Communist Party of China and the country's Central Military Commission, the high command of the People's Liberation Army, made a fact-finding trip on Wednesday to survey the work of border management and control and the development of frontier troops in the Inner Mongolia Autonomous Region.
The Chinese president asked troops to break new ground in border defence, state-run Xinhua news agency reported on Friday.
Xi has called on Chinese border troops to enhance their capabilities in border defence and control to forge a "great wall of steel" along the country's borders, it said.
Unlike his predecessors, Xi, who came into power in 2012, has regularly visited troops in various border regions, including Tibet.
In 2021, he made a rare visit to Nyingchi, a strategically located border town close to Arunachal Pradesh, during his first visit to Tibet.
While visiting the Inner Mongolia military command of the PLA, Xi emphasised the importance of ensuring integrity and a high degree of unity among the border troops.
Highlighting cooperation among the ruling Communist Party of China and government departments, the military, law enforcement agencies, as well as the ordinary people in border defence as China's unique strength, Xi called for joint efforts from all parties to break new ground in defending the country's borders.
He called for additional efforts to intensify troop training and enhance combat preparedness, and speed up capacity building concerning information technology-enabled border defence and control.
He also called for efforts to transform how border defence duties are performed, tighten military discipline, maintain good troop order, and foster more border defence professionals.
Xi commended the role of the region's border troops in ensuring security and stability on the country's northern border.
Praising China's progress in border defence work since he came to power in 2012, Xi said the country's border troops have boosted military training and combat preparedness and resolutely safeguarded border security and the stability in regions along the frontiers.
He added that the troops have effectively safeguarded China's sovereignty, security, and development interest.
Stressing the importance of border defence in ensuring national stability and governance, Xi called on the border troops to have a stronger sense of mission and responsibility and guard the borders diligently for the ruling Communist Party and the people.
Xi underscored the need for continuous efforts to enhance cohesion and forge the soul of the border troops with the CPC's new theories, as well as to improve their education on political discipline, discipline regarding the public and affairs related to foreigners, and policies on ethnic and religious affairs.
Xi has been placing more emphasis on ramping up security and increasing the combat levels of the troops ever since he was re-elected as head of the CPC for an unprecedented third time last year.
He is the only leader after the party founder Mao Zedong to continue in power for more than two five-year terms.
© Copyright 2023 PTI. All rights reserved. Republication or redistribution of PTI content, including by framing or similar means, is expressly prohibited without the prior written consent.