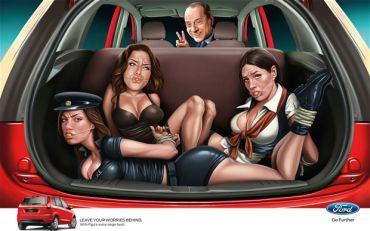 Ford Motors India has apologised for an ad campaign that showed scantily-clad, voluptuous women gagged, bound and stuffed in the trunk of the car maker's Figo model.
One of the ads showed a caricature of former Italian Prime Minister Silvio Berlusconi in the driver's seat flashing a peace sign while three scantily clad women sit gagged and bound in the trunk.
Another version shows Paris Hilton ­similarly kidnapping a trio of Kardashians, while a third, has Michael Schumacher toting Sebastian Vettel, Fernando Alonso, and Lewis Hamilton, the Huffington Post reports.
In a statement, advertising firm expressed regret over the publication of the ads and said they should never have been created in the first place.
It said the firm 'deeply regrets the publishing of posters that were distasteful and contrary to the standards of professionalism and decency within WPP Group.'
As reported by The Wall Street Journal, Ford also said in a statement that it 'deeply regrets this incident and agree with our agency partners that it should have never happened.'