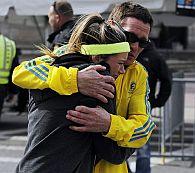 Ashish Andotra, of Indian origin, travelled from Atlanta to be part of the 2013 Boston Marathon, held on Monday, April 15, for it was one of the prestigious marathons he'd always wanted to participate. As things turned out, he missed the blasts by half-an-hour.
Nearly 27,000 people participated in the marathon which is held annually on Patriots' Day, the third Monday of April, a state holiday in Massachusetts.
"This was my first time at Boston Marathon, and to get into the race you have to qualify certain criteria. It's more of a challenge you set for yourself," Andotra told rediff.com.
"It was very unfortunate to see what happened. The commotion, the way people were disturbed. My family and I did go through some trouble but obviously it's nothing compared to people who were injured and lost their life."
"I wanted to help, to do something, but I felt helpless," said Andotra, 38, a software engineer who works at Cbeyond, a telecommunications company in Atlanta.
Sharing his experience of what happened on Monday afternoon, Andotra said after completing the full marathon and running 26.2 miles, at 2:15 pm local time he headed to the train station with his wife and a two-year-old daughter to get back to the hotel. The train station was half a mile away.
The first blast came half an hour later near the finishing line, quickly followed by another.
After reaching the station Andotra was approached by three cops who said the trains had been cancelled. He came out from the station and things were not what he saw a few minutes ago. "Things were all locked down and trains were not working. We were stuck," said Andotra.
"It became tough with the little one. We had to walk to a different station and a couple of more miles to catch a train from a different route."
According to the Boston Marathon website, about 15 people of Indian origin participated in the 2013 edition.