Haryana Police on Thursday ordered setting up of a Special Investigation Team to probe certain cases registered in the wake of the tense two-week stand-off inside 'godman' Rampal's Satlok ashram in Barwala.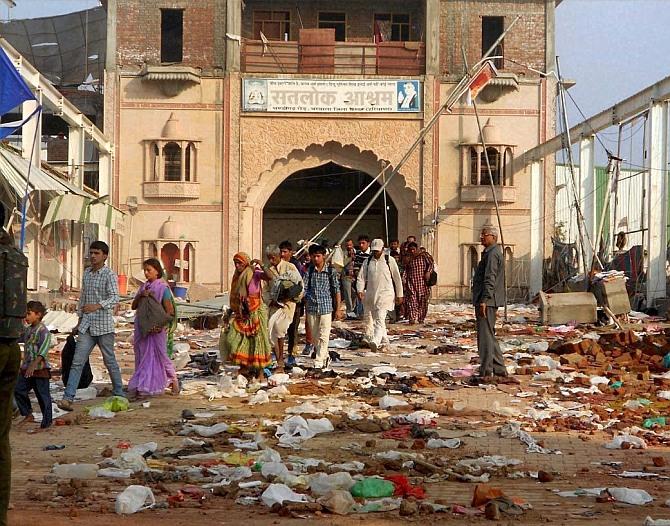 "A Special Investigation Team (SIT) headed by Hisar SP (Satender Kumar Gupta) will investigate some cases. Two DSPs and four Inspectors and others too will be part of the SIT," Inspector General of Police (Hisar Range) A K Rao told PTI.
Over 35 fresh cases, including that of sedition, have been slapped against 63-year-old Rampal and his followers that include his key aides.
A total of 460 persons have been arrested so far on various charges in connection with the stand-off that came to an end on Wednesday night with the arrest of Rampal from his Ashram.
Security personnel on Thursday entered the ashram and also allowed entry to the media persons even as more followers were flushed out from the premises, whose main gate was opened in the afternoon.
"We have now got a search warrant from the court and a thorough and proper search will be conducted," he said, adding most of the followers who had been holed up had come out.
Rao hoped a few who were still inside would leave and the authorities would facilitate them to reach their destinations.
"Our main aim was to execute the high court's non-bailable warrant against Rampal and to ensure safety and security of the innocent lives," he said.
Rao said police would thoroughly check the ashram premises and it had already got several photos of the suspects who had created trouble on Tuesday and would see if these match with anymore followers who are found still inside the sprawling 12 acre campus.
As media persons were allowed entry to the ashram, some followers who were still inside narrated that Rampal's staunch supporters and private commandos had been putting pressure on them not to leave as police would arrest them.
Inside the sprawling complex, massive arrangements could be seen in place for accommodating thousands of followers.
Stocks of food items too could be seen lying inside while several water bottles and other items lay scattered.
In view of winter, arrangements for large number of followers to sleep comfortably too had been made.
A large swimming pool was found inside and amenities to ensure comfortable stay of Rampal and his key functionaries inside the ashram could be seen.
CCTV cameras and metal detectors to check the followers of Rampal, who had some ex-servicemen and retired policeman among his staunch supporters, were also found installed at various points in the ashram.
Before launching full-scale operation to search the ashram for objectionable items, including arms and ammunition, police said they wanted to ensure that all innocent followers have come out so as to isolate any of the commandos or other accused who may be still hiding inside.
During the siege, four women died under mysterious circumstances while a young woman who was taken to hospital at Hisar in a serious condition also breathed her last.
An infant too was declared dead at the hospital after being taken there on Wednesday.
Haryana Police and paramilitary forces surrounded the premises and kept a tight vigil so that any accused person, who may be hiding inside, did not escape.