The death toll due to heavy rainfall, followed by a flood-like situation in many parts of Gujarat has gone up to 70, including 26 casualties in the worst affected Amreli district, it was officially announced on Thursday.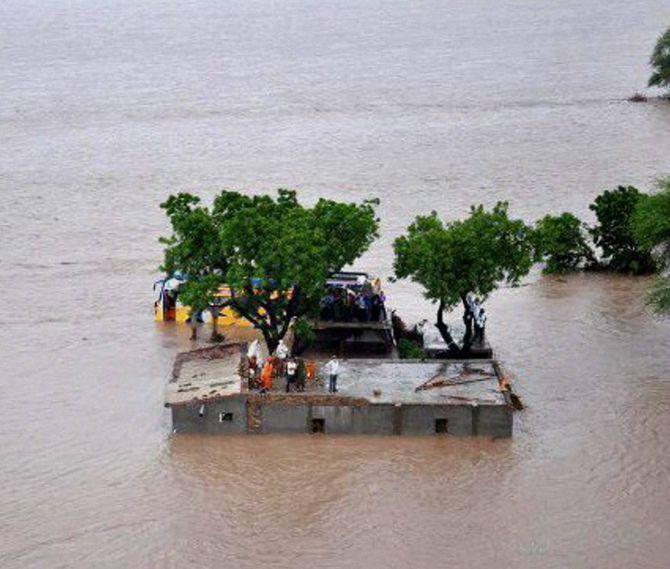 People stranded on the roof of a house as they wait for Air Force personnel for rescue after heavy rainfall caused floods in Amreli district in Gujarat. Photograph: PTI
"Around 70 people died due to heavy rains," Gujarat state health minister and spokesperson Nitin Patel said.
According to figures provided by the Gujarat state emergency control room, 26 people died in Amreli, which is the worst hit district, while five deaths each have been reported in Bharuch, Jamnagar, Kutch and Rajkot districts.
Four died in Devbhoomi-Dwarka, while three deaths each have been registered in the districts of Bhavnagar, Junagadh and Surendranagar. Two deaths were registered in Dahod, Mehsana, Morbi and Surat, while one death each have been registered in Kheda, Porbandar, and Valsad, as per official figures.
Meanwhile, the Gujarat government has announced Rs 4 lakh each as compensation to famalies of the deceased. "We have decided to give a compensation of Rs 4 lakh each to families of all the deceased. In addition, we have also decided to give cash doles for the next ten days to people in affected areas," Gujarat health minister and spokesperson of the government Nitin Patel said.
Besides this assistance, the Gujarat state government plans to provide financial aid to those who lost their property and livestock.
"We have asked local administrations of the affected districts to carry out an extensive survey to determine the loss. We will provide financial aide to those who have lost crops, livestock, houses and other properties as per norms," Patel said.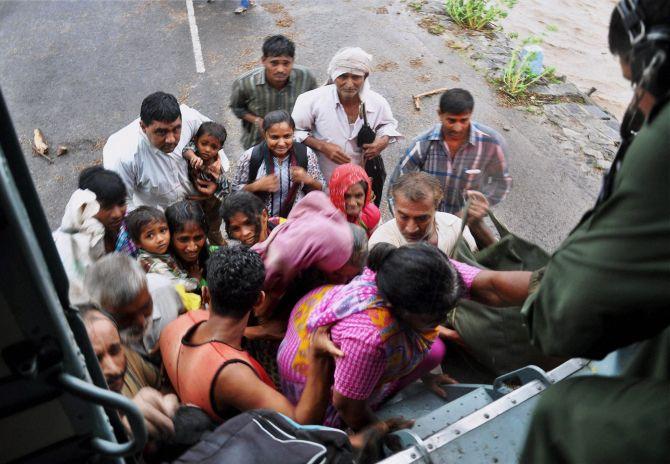 Air Force personnel rescue stranded people after heavy rains caused floods in Amreli district in Gujarat. Photograph: PTI
Earlier during the day, Gujarat Chief Minister Anandiben Patel conducted an aerial review of several parts of the Saurashtra region, like Amreli and Gondal, which are badly flooded due to heavy rains on Thursday.
Later, Patel held a meeting with Amreli's top officials and asked the administration to take all necessary steps for relief and rehabilitation of the affected people.
Patel tweeted that it would take at least four to five days to bring back normalcy. "Gujarat will complete the relief work in coming five days to bring life back to normalcy in affected areas," stated one of her tweets.
Later on Thursday evening, Patel held another high-level meeting at Gandhinagar to assess the flood-like situation in many parts of state.
During the meeting, Patel asked officials to expedite the works related to restoring eletricity, building new roads, cleaning pipelines, restoring water supply, disposing off animal carcasses, and providing medicines in affected regions.
She was also informed that epidemic control teams including doctors and medical students have already reached these places with more than 1 lakh chlorine tablets, a press release stated.
During the relief and rescue operations carried out on Wednesday and Thursday, at least 87 locals of Amreli and Gondal were air lifted by the Indian Air Force. They also distributed six tonne of foods packets and water pouches in affected region, the release stated.
Meanwhile, heavy rains due to deep depression over the Arabian sea, which lashed Saurashtra and South Gujarat regions for 24 hours ceased after the deep depression moved towards Madhya Pradesh, officials said.
"The deep depression has moved out of the state. It has turned into a low mark pressure and is now centred at Madhya Pradesh. It will weaken further in the next 24 hours," State Meteorological Department Director Jayanta Sarkar told reporters.
"We expect that rainfall, which occurred during the last 48 hours, will decrease," Sarkar said.
On Thursday, around 60 villages in Amreli district were cut off from the rest of Gujarat. The situation worsened after waters of the Shetrunji river entered surrounding villages.
© Copyright 2021 PTI. All rights reserved. Republication or redistribution of PTI content, including by framing or similar means, is expressly prohibited without the prior written consent.