At least 155 people have lost their lives and over 80 lakh people affected in fresh floods due to excessive rains in worst-affected Gujarat, Rajasthan, West Bengal and Odisha.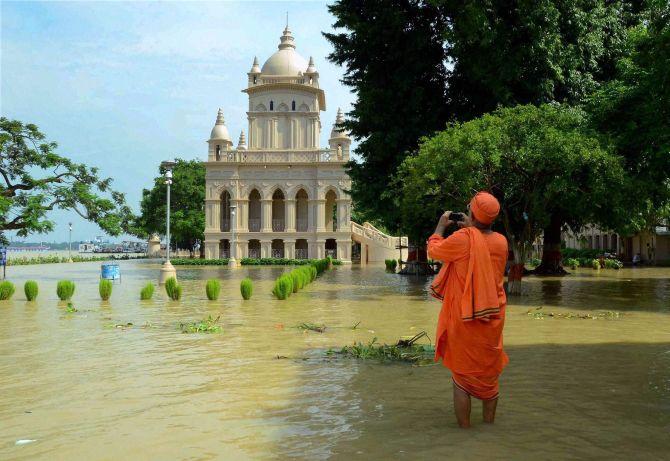 A monk takes picture at waterlogged Belur Math in Howrah district of West Bengal on Monday. Photograph: PTI Photo
While the death toll touched 53 in Gujarat, 69 in West Bengal, 28 died in Rajasthan and five in Odisha, a home ministry statement said.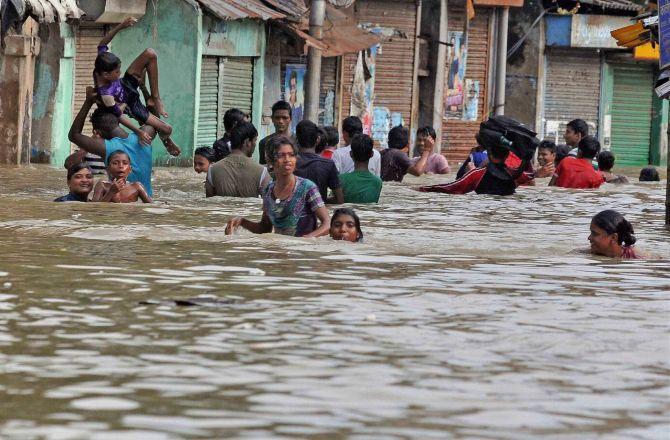 Locals wade through a waterlogged road after high tide on River Ganga at Kalighat in Kolkata. Photograph: PTI Photo

A total of 36,90,627 people in 9,691 villages of 210 blocks in 12 districts in West Bengal have been affected due to floods, while a population of 40 lakh in Gujarat and 4,80,399 in Odisha, it said.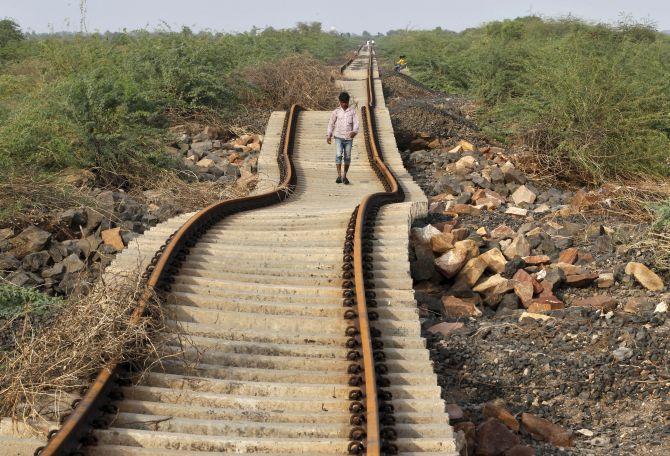 A villager walks on a railway track that was damaged after heavy monsoon rains near Patdi village in Gujarat. Dozens of people have been killed in the flood-like situation caused by torrential monsoon rains in some parts of Gujarat. Photograph: Amit Dave/Reuters
Bengal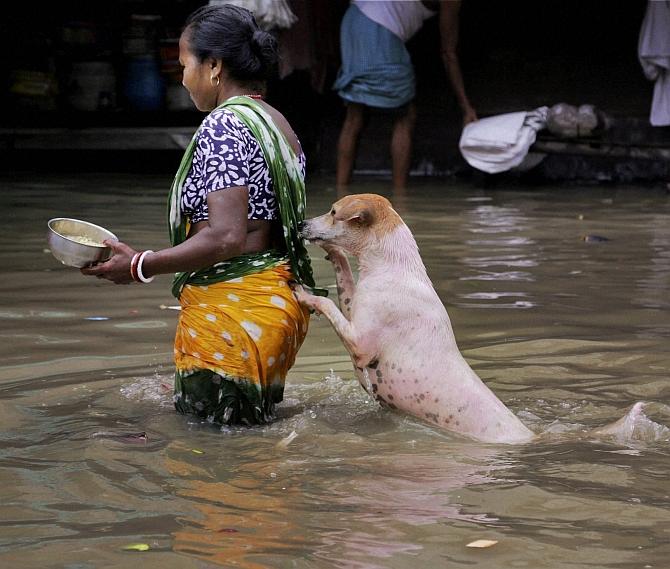 Image: A stray dog takes the support of a woman to cross a flooded street in Kolkata. Photograph: PTI Photo
With fresh discharge of water from the barrages and continuing high tide, the flood situation in south Bengal remained grim as the death toll mounted to 69 while 3.63 lakh people took shelter in 2,213 relief camps in 12 affected districts.
Twenty-one fresh deaths were reported on Monday from the affected districts, taking the toll to 69, Disaster Management Department sources said adding that incidents lightening, wall collapse, electrocution, snake bite and drowning were to blame for the fatalities.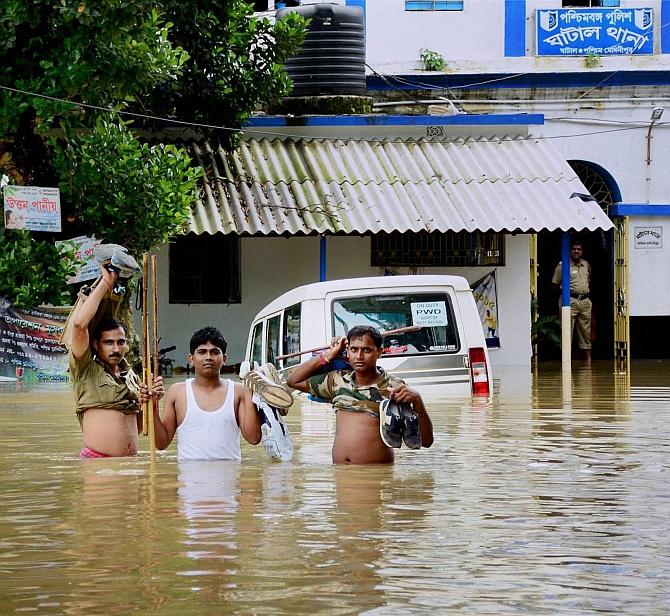 Image: Ghatal Police Station submerged in flood waters at Ghatal in West Midnapore district of West Bengal. Photograph: PTI Photo
"Altogether 2,213 relief camps have been set up to shelter over 3.63 lakh marooned people and 461 medical camps opened," the sources said adding that the total number of affected people was nearly 52 lakh.
The sources said that 55,899 houses were damaged and 2,72,488 houses were destroyed partly. Crop over an area of 5,18,173 hectares was damaged due to the floods.
State Irrigation Minister Rajib Banerjee said, "Even though there was reduced rainfall, the situation remained unchanged in Burdwan, Hooghly, Howrah, West Midnapore and East Midnapore districts because of fresh release of water following heavy rains in upper catchment areas."
The districts of South 24-Parganas, North 24-Parganas, Nadia, Murshidabad, Bankura and Birbhum were the other badly affected regions, he said.
People try to clear water that has collected in their shops in West Bengal. Photograph: PTI
Chief Minister Mamata Banerjee reviewed the latest flood situation in a meeting with senior officials at the state secretariat.
On Sunday night, Union Home Minister Rajnath Singh had spoken to the CM over phone enquiring about the latest flood situation.
The chief minister, who stayed at the state secretariat overnight to personally monitor the flood situation, on Monday visited the affected areas at Asoknagar and Habra in North 24-Parganas district and distributed relief materials among the marooned.
Banerjee instructed a number of ministers and senior officials to visit the affected areas and supervise relief arrangement.
She said there should not be any politics in the distribution of relief and promised that her government would extend all help, asking opposition parties not to indulge in politics over relief distribution.
The chief minister had earlier instructed the officials to monitor the situation round-the-clock and take prompt appropriate steps.
Meanwhile, an IMD Kolkata issued a release hinting at improved weather condition in South Bengal. However, heavy rain would likely to occur at isolated places over sub-Himalayan West Bengal and Sikkim.
On Wednesday also, heavy rainfall is predicted at isolated places in the Andaman and Nicobar Islands as well as sub-Himalayan West Bengal and Sikkim.
A report from Nadia district said the world-famous ISKCON Temple in Mayapur was flooded. The temple where the kirtan takes place is under water.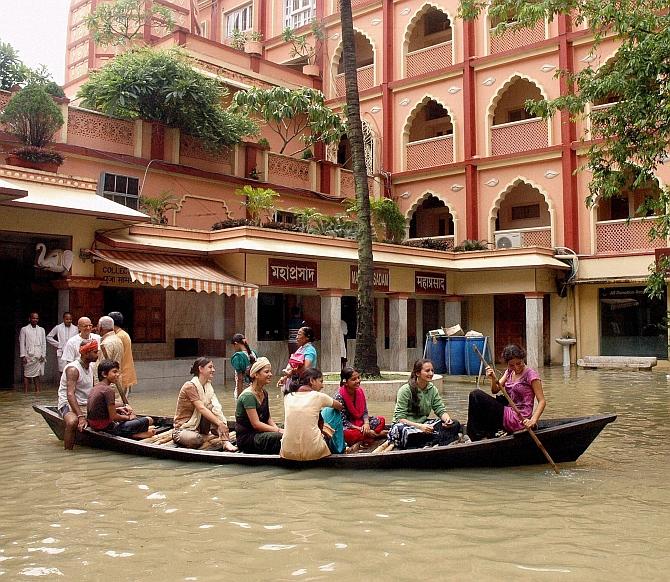 Image: ISKCON Temple at Mayapur submerged in flood waters in Nadia district of West Bengal. Photograph: PTI Photo
Rajasthan
In Rajasthan, 28 people have lost their lives, out of which 12 people died during past few days owing to very heavy rainfall and flood like situation in many parts of the state.
Rajasthan has experienced excessive rainfall in most of its districts.
The situation is "grim" particularly in districts of Jalore, Jhalawar, Baran, Sirohi, Barmer and Dungarpur, the statement said.
Apart from the State Disaster Response Force, Police, eight teams of National Disaster Response Force have been deployed for rescue and relief operations. More than 630 peoples have been rescued from various districts in Rajasthan, it said.
Relief material is being distributed to the affected population.
Troops of the South Western Command have been involved in rescue operations in parts of the state.
The Army Flood Relief Columns are located Chirpatiya, Dhanera and Sanchor.
Odisha
In Odisha, seven districts namely Jajpur, Mayurbhanj, Keonjhar, Bhadrak, Balasore, Jharsuguda and Deogarh have been affected by the floods, the statement said.
Five people lost their lives and 644 villages and 4,80,399 people were affected. 1574 people have been evacuated to safer
places, it said.
Seven relief camps have been opened and 55 people have been accommodated. 132 boats have been deployed for rescue operations, it added.
Heavy to very heavy rainfall accompanied by gusty surface winds is likely to pound several places in south and north Odisha in the next 24 hours under the influence of a depression.
The depression over Bangladesh, which moved west-northwest and lay centered over the Gangetic West Bengal and adjoining Bangladesh today, would trigger rain and thundershower in most places in northern part of the state and many places in southern part too, MeT office said.
Heavy to very heavy rainfall in a few places in northern part and heavy rainfall would occur in one or two places in southern part of the state in the next 24 hours, it said.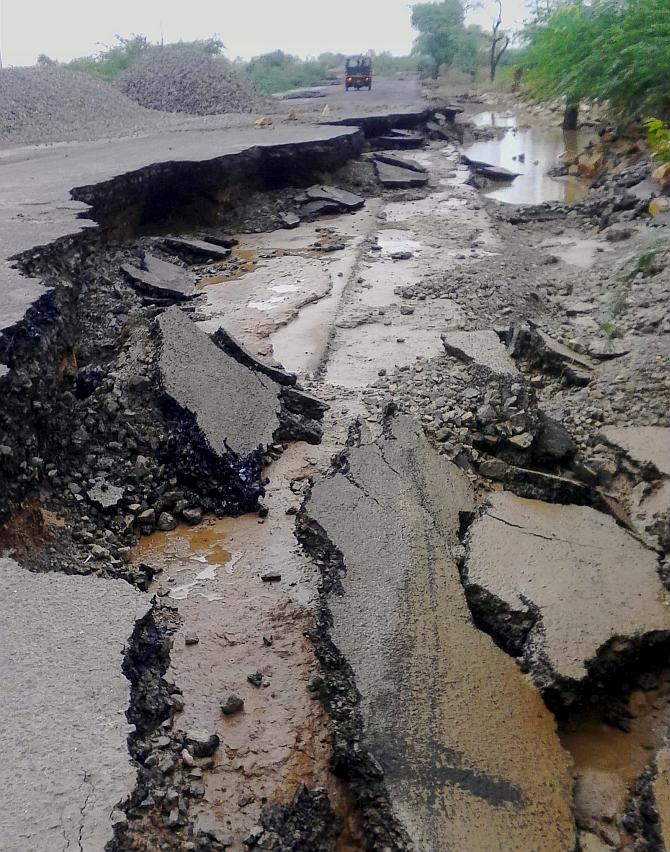 Image: A vehicle passes through a damaged road of Kheda-Dholka highway after heavy rains in Kheda. Photograph: PTI Photo
Gujarat
In Gujarat, 14 districts and population of about 40 lakh were affected in recent floods due to heavy rainfall.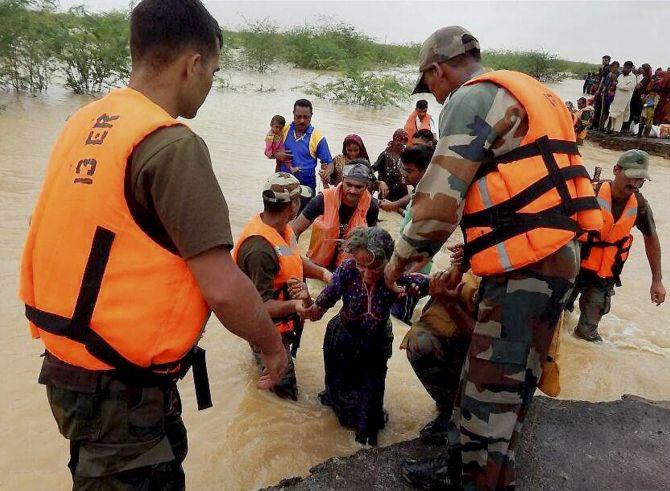 Army jawans help an old lady who was stranded owing to the heavy rain. Photograph: PTI
More than 10 lakh food packets have been airdropped or distributed to the flood victims. Temporary relief camps have been set up in affected areas and people accommodated on need basis, the statement said.
Seventeen NDRF teams have been deployed for rescue and relief operations in Gujarat.
Heavy rains followed by floods in Banaskantha and Patan districts in north Gujarat last week have claimed over 16,000 cattle.
As per an official release, more than 16,000 cattle have been killed in the floods. Of these, 13,053 were killed in worst-hit Banaskantha district, while 3,001 died in Patan.
Union Minister of State for Home Haribhai Chaudhary, who is on a two-day visit to his constituency Banaskantha, said that out of 13,053 cattle killed in the flood in Banaskantha, local administration has discarded 12,084 carcasses till now.
He further said that medical teams from Vadodara, Surat and Ahmedabad have been called to keep a check on epidemics.
As per the figures provided by the state emergency control, at least 53 persons have lost lives across the state in the recent rain and subsequent floods. Among these, 28 persons have died in Banaskantha while 5 died in Patan.
Image: Army jawans undertaking a rescue operation in areas affected by floodwaters in Banaskantha. Photograph: PTI Photo
Meanwhile, the state government has announced to give a grant of Rs 3.78 crore to Patan district.
According to an official release, electricity supply was badly hit due to floods in Patan. Till now, administration has restored electricity in 457 villages, while 65 villages are still without electricity.
From restoring railway tracks to rescuing a drowning mother and her baby, and even a dog, the Army and Air Force personnel have come handy in the flood-hit areas of Gujarat.
Of the many stories of bravery that have come out, the act of Havaldar Yousouf stands out as he rescued a drowning mother and her baby in Shervo village, situated approximately 50 kms north of Bhuj in Kutch district of Gujarat.
Due to heavy rains and floods in the region from July 27 to July 30, the lone connecting road to Shervo from Hudco village was severely damaged and hence all communication and supplies were cut off.
A team from the Army as well as Gujarat Police was tasked with relief and evacuation on July 31. The evacuation began in the afternoon and about 200 villagers including 17 infants and 32 children had to be evacuated on foot.
The nearest village was 13 kms away with several cuts on the road and fast flowing water on either side. Villagers were made to cross these cuts with the help of a rope and a human chain formed by the troops against the flow of water. On one such cut, a woman, along with an infant, lost her balance and fell.
"Havaldar Yousouf was near to the incident and spotted the mishap immediately. He showed extreme courage and jumped into the water. He swam across to the woman and grabbed the infant in order to keep him above the surface of the water.
"He led the woman to the rope and carried the infant to safety against the fast flowing water himself. The woman and her child eventually made their way out to safety...," the sources said.
-- With inputs from PTI