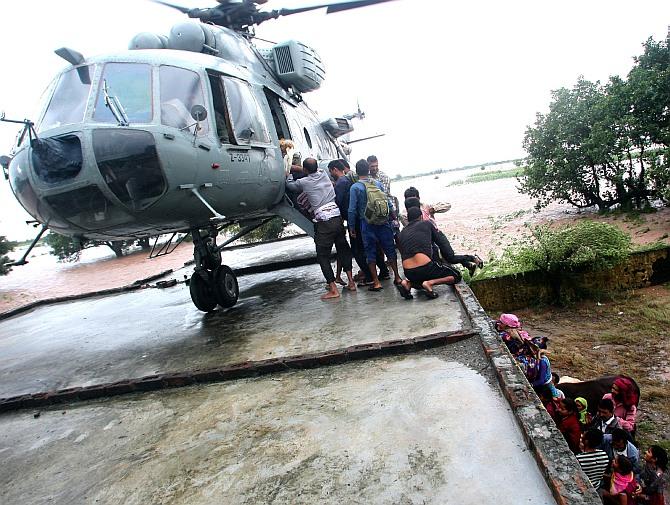 Ten more teams of the National Disaster Response Force were on Tuesday deployed for rescue and relief operations in flood-hit Bihar and Uttar Pradesh even as the force rescued over 33,000 marooned people from various states.
Witnessing continuous rains and with people not wanting to leave their homes, the force has also deployed a number of 'boat ambulances' in these states on which the personnel of the force provide pre-hospitalisation treatment and medicines to the affected.
"The 10 teams that were airlifted on Monday for Bihar and Uttar Pradesh have been deployed. We are intensifying our operations," NDRF chief O P Singh told PTI.
A special control room at the forces' headquarter New Delhi is monitoring the situation 24X7, he said.
As per reports coming from the flood-affected areas of UP, the water level is increasing by 1 cm per hour in areas around Varanasi and about 15 cm rise in the water level has been seen in the day till now, a senior official said.
There are reports of waterlogging in Varanasi and Ghazipur, the official said.
"So far, NDRF teams have evacuated/rescued 33,210 people and provided medicine assistance to 9,197 needy people," the national contingency force said, adding rescue operations in four other states of Rajasthan, Gujarat, Madhya Pradesh and Assam are in "full swing".
Apart from the 10 fresh teams, 17 rescue teams of the NDRF are operational in Bihar.
As per data, while 650 people were rescued from Patna, 1,580 from Didarganj, 450 from Sonepur, 65 from Vaisali, 780 people from Bakhtiyarpur and 300 people and 10 cattles were rescued from Digaghat Danapur to safer locations.
"Thus, NDRF has rescued a total of 14,178 people in last four days in Bihar," it said.
Similarly, 19 teams of NDRF are deployed in different parts of Uttar Pradesh.
In order to launch massive operations in the two worst-affected states of Bihar and Uttar Pradesh, the NDRF has created on-ground control rooms in these two states and deputed two senior Deputy Inspector General-rank officers to take control of the situation.
IMAGE: Indian Air Force helicopters carrying out rescue, relief and evacuation of people marooned during the flood fury. Photograph: Press Information Bureau