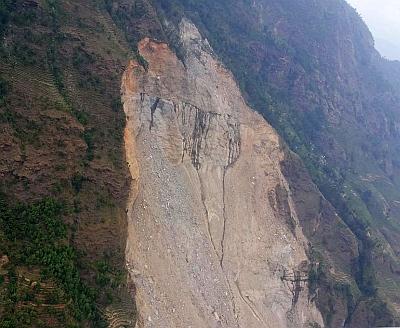 A massive landslide in western Nepal has blocked a river that also flows through India, forcing thousands of people to flee to safety and triggering fears of a flood, officials said on Sunday.
The Kali Gandaki River in Myagdi district, about 140km north-west of the capital, Kathmandu, has created a deep and growing new lake after the landslide overnight.
Nepal Police in their twitter account said that the water level in the artificial dam, created after the blockage of the river, has risen by 150 meters.
There are no reports of casualties. Authorities have deployed army in the area.
Ministry of Science and Technology has declared 'high alert' in the settlements along the banks of river owing to continuous landslides.
"A landslide based dam has been formed at Kaligandaki river approximately 10 km upstream of Beni Bazar. Residents living downstream in Galeshwor Bazaar and Beni Bazaar need to be in high alert," a warning in the ministry's website said.
"Parts of Syangja, Parbat, Myagdi, Baglung, Gulmi, Palpa and Nawalparasi districts in the downstream of this river also need to stay high alert."
Flood forecasting division of Department of Hydrology and Meteorology has appealed to the residents of settlements in the 7 districts below the landslide location to stay alert.
Normally landslide is triggered by rain but in this case, the cracks triggered by earthquake led the debris to fall, according to experts. Rocks, boulders and mud are falling making huge sound, Ekantipur reported.
The landslide also buried 25 houses in Baisari.
Kali Gandaki flows in central Nepal and northern India. It is formed by the union of the Kali and Trisuli rivers. It flows southwest into India and then turns southeast along the Uttar Pradesh–Bihar state border and across the Indo-Gangetic Plain.
A number of landslides have hit Nepal since the 7.8-magnitude earthquake on April 25 which killed more than 8,000 people and injured many more.
It was followed by a 7.3 magnitude quake on May 12 and several strong aftershocks.